42 hours broadcasting on Cyclone "FANI" update through Eight Community Radio Stations in Bangladesh
Eight Community Radio Stations broadcasting in the coastal region of Bangladesh is now continuously reporting to address the Cyclone Strom 'FANI'. From last night all stations have broadcasted a total of 42 hours of the program till now to address the upcoming cyclone in line with Standing Orders on Disaster (SOD) of Government of the People's the Republic of Bangladesh.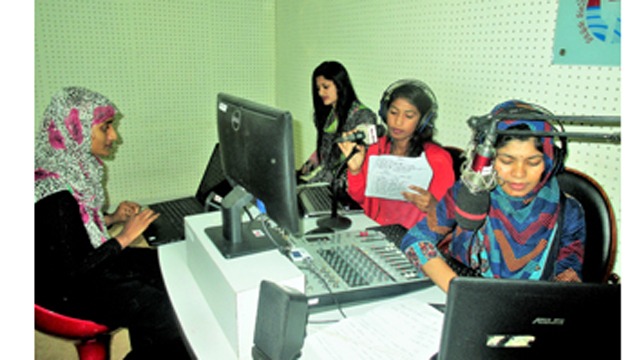 From 2nd May, Thursday the coastal areas have received danger signal number 7, which describes the port is to experience severe weather through storm with slight to the moderate intensity that is expected to cross over or near the port, with 62-88 KM/hr. wind speed. All vessels are about to take shelter immediately, according to the Bangladesh Meteorological Department.
All the 8 community radio stations have had active representation in Union and District Disaster Management Committee, and district and upazilla disaster control room.  Information is shared through radio broadcasting and mobile phone with the radio listeners club, who are representing own locality.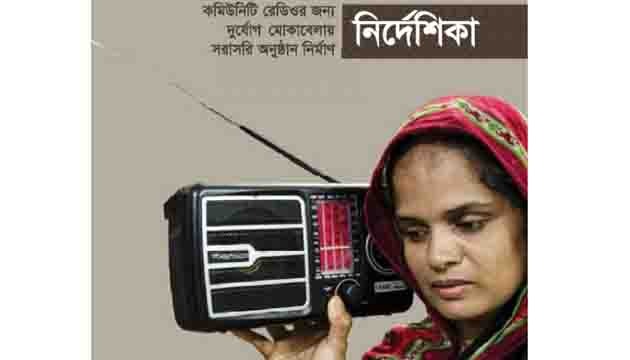 At a time total of 64 Community Broadcasters and volunteers around the radio stations are in full-time engagement in disaster preparedness with the community, broadcasting Public Service Announcement (PSA) and recorded an interview with community, Local government representatives, disaster management committee, with disaster-related issues. Information is being provided to the community regarding preparedness for the most vulnerable group of people and assets as well. The stations are broadcasting information about Cyclone shelter and other disaster response facilities of the locality.
Community Radio stations are also taking preparedness updates from government and non-government institutions.  They are also collaborating with Red Crescent members, Scouts and disaster volunteers at local levels to help reduce loss and damage.
Considering the importance of the situation the community radio stations situated in coastal zone namely Community Radio Nalta 99.2 (Kaliganj, Satkhira)  and Community Radio  Sundarban 98.8( Koyra, Khulna), Community Radio Lokobetar 99.2 (Barguna Sadar), Community Rural Radio: Krishi Radio 98.2(Amtali, Barguna),  Community Radio Meghna 99.00 (Charfasion, Bhola Island), Community Radio Sagor Dwip 99.2 ( Hatia, Noakhali ), Community Radio Naf 99.2 (Tekhnaf, Cox's Bazar) and Community Radio Sagargiri 99.2    (Sitakunda, Chittagong) and have their preparation to keep their stations on-air for 24 hours. Generator and fuels are reserved for alternative power supply, if they're in any disruption in notational power supply grid and hamper the broadcasting
They are broadcasting special bulletin, PSA, recorded program repeatedly and draw the attention of all to prepare for facing cyclone storm 'FANI', so that community will be able to take initiative in advance and thus the damage can be reduced.
Bangladesh NGOs Network for Radio and Communication (BNNRC) is maintaining full-time contact and coordination with the coastal community radio stations. The contact points for the coastal community radio stations are;
Sabbir Hossain, Senior Producer, (Present In charge) Community Radio  Nalta, Kaliganj, Satkhira, Phone: +01789520702 , Email: neelsabbir@outlook.com
Mr. Selim Sharier, Station Manager, Phone: +88 01713902783  E Mail:   selimsharier@gmail.com
 Mr. Palas Chandra Dhali, Station Manager, Community Radio  Sundarban, Koyra Upazila,Khulna, Phone: +88 01852377995  E-Mail:  mprs.info@gmail.com
Mr. Monir Hossain Kamal, Station Manager, Community Radio Lokobetar , Barguna Sadar, Phone: +88 01716 32 71 51   E-Mail:   monirkamal@gmail.com
Md. Isa, Radio Focal person, Community Rural Radio Krishi Radio,  Amtali Upazila, Barguna, Phone: +8801713 68 88 89 E-Mail:   shamim.crr@gmail.com
Ms. Konika Rani, Assistant Station Manager, Community Radio Meghna,   Charfasion Upazila,Bhola Island, Phone: +8801755970901   E-Mail:  konika.radiomeghna@gmail.com
Ms, Papia Sultana, Station In-charge, Community Radio Sagor Dwip, Hatia Upazila, Noakhali, Phone:+88 01721176281  E-Mail:  papia3563@gmail.com
Mr. Siddiqur Hossain,  Station Manager In-charge, Community Radio Naf, (Tekhnaf Upazila, Cox's Bazar) Phone: +88 01716 53 00 58, E-Mail:  siddiktk.77@gmail.com
Mr. Sha Sultan Shamim, Station Manager, Community Radio Sagar Giri, Sitakunda Upazila, Chittagong, Phone: +88 01712 02 10 97 E-Mail:  shamim_ypsa@yahoo.com
Ms,  Jeanett Shapla Chowdury  and Ms,Protiva Banerjee, Disaster Control Room In-charge of Bangladesh NGOs Network for Radio and Communication (BNNRC), Dhaka. Phone:  +8801686496056, +8801814847780,  E-Mail:  jeanett@bnnrc.net,  protiva@bnnrc.net