A 17-member delegation comprising ambassadors and Chargé d' affaires of the OIC member countries congratulate Prime Minister Sheikh Hasina for her victory in the election.
Heads of missions representing the OIC member countries here on Sunday congratulated Prime Minister Sheikh Hasina and her new cabinet saying her party's unprecedented victory in the 11th parliamentary election is a reflection of the last 10 years hard works for development.
A 17-member delegation comprising ambassadors and Chargé d' affaires of the OIC member countries greeted the Prime Minister handing over a bouquet to her at her official residence Ganobhaban.
"You've achieved an unprecedented victory…your people have placed trust on your due to (your) hard work over the last 10 years. People have seen development, security, stability and economic development," said Palestine Ambassador Yousef SY Rahman.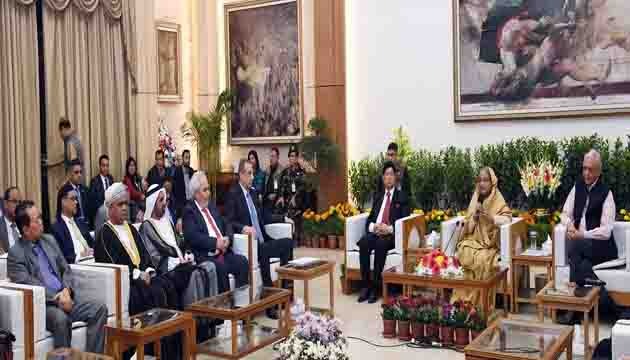 They (people) want to achieve the goals of your great father (Father of the Nation Bangabandhu Sheikh Mujibur Rahman)," he said.
The Palestine envoy wished the Prime Minister further success and good health to fulfill the expectations of the people of Bangladesh.
Turkish Ambassador Devrim Ozturk said, "We'll support [Bangladesh] to fulfill our commitment to find a salutation to Rohingya crisis."
Prime Minister Sheikh Hasina said she is trying her best to work for people to ensure their basic needs.
Mentioning that her father liberated Bangladesh through a war, Hasina said, "This is why I always feel that this (to be in power) is an opportunity for me to fulfill my father's dreams."
She went on saying, "Now people have realised, we're working for our people. My own aim is to develop the basic condition of people so that they can have their food, housing, health and all other basic needs."
Hasina said the general people, especially women and the young generation, came forward and voted for Awami League in a massive way for the first time in the just-concluded general election.
"This time they (women and young generation) are so much enthusiastic," she said.
The Prime Minister said every person in Bangladesh performs his or her own religious rituals peacefully as religious harmony is prevailing in the country.
She thanked the OIC member countries for extending support to her always. "This support gives me strength to work more and more for people," Hasina added.
PM's International Affairs Adviser Prof Dr Gowher Rizvi, Foreign Minister AK Abdul Momen, State Minister for Foreign Affairs Md Shahriar Alam, PM's Principal Secretary Md. Nojibur Rahman, Foreign Secretary Md Shahidul Haque, PM's Press Secretary Ihsanul Karim and PMO Secretary Sajjadul Hassan were, among others, present.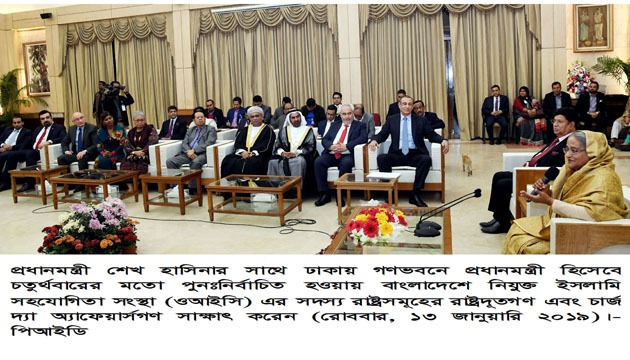 The 15 other delegates are Qatar's Ambassador Ahmed Mohamed Al-Dehaimi, UAE Ambassador Saed Mohammed Saed Al Muhairi, Egyptian Ambassador Walid Shamseldin, Indonesian Ambassador Rina Soemarno, Kuwait's Ambassador Adel Mohammed A H Hayat,  Morocco's Ambassador Majid Halim, Maldives High Commissioner Aishath Shaan Shakir, Iraqi Chargé d'affaires (CDA) Omar Hashim, Oman's CDA Ta'eeb Salim Abdullah Al' Alawi, Libyan CDA Mahmoud Salabi, Brunei's CDA Haji Roslan Haji, Maldives CDA Ismail Mufeed, Saudi Arabian CDA  Ibrahim AL Humaidhi and Pakistani CDA Shah Faisal Kakar.