A signing Ceremony between Italy-Bangladesh Friendship and Cooperation Association takes place at the Italian Senate.
The signing Ceremony of the Memorandum and Articles of Italy-Bangladesh Friendship and Cooperation Association took place at the historic Sala (hall room) "Ex Barberia" at the Italian Senate on 07 June 2023. Ambassador Masud Bin Momen, Foreign Secretary (Senior Secretary) of the Ministry of Foreign Affairs, Bangladesh witnessed the signing event which was attended by, among others, Italian Parliamentarians, eminent citizens, members of ISIA (Italian Institute for Asia), Honorary Consul Generals of Bangladesh in Italy and officers at the Embassy of Bangladesh in Rome.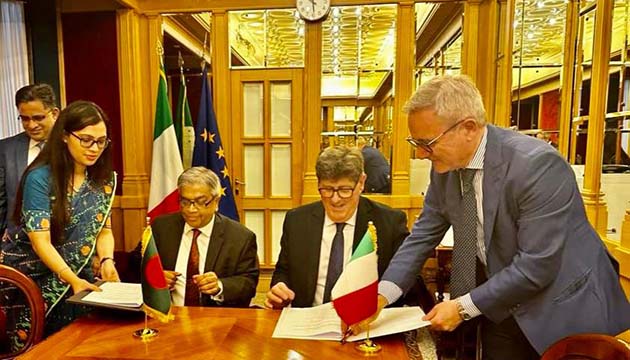 Mr. Md. Shameem Ahsan, Bangladesh Ambassador to Italy, Montenegro & Serbia, signed the Memorandum as a President of the Association from the Bangladesh side while Mr. Marco Lacarra, Hon'ble Member of the Parliamentary Group of the Democratic Party of Italy (PD) signed the document as a President from the Italian side. Mr. Mario Morgoni, President of ISIA assumed the Vice President of the Association, and Eng. Domenico Palmieri, Secretary General of ISIA will act as the Director of the Association.
Ambassador Masud Bin Momen warmly congratulated the launching of the Association and wished for its successful and smooth functioning. While narrating the impressive development journey of Bangladesh in recent years, he said that the leadership of the Association could visit Bangladesh to gain insights and knowledge about present day Bangladesh which will eventually help chart out its future course of action to explore new areas of cooperation. While sincerely thanking ISIA for their initiative and support, Ambassador Ahsan felt that the launching will go a long way to supplement the government initiative to promote and expand bilateral relations. Hon'ble Lacarra was deeply appreciative of the remarkable success of Bangladesh and expressed his willingness to work vigorously to strengthen and widen mutual collaboration between Bangladesh and Italy.
It is expected that the Association will help the two friendly countries as well as their people to come closer and work together in all aspects, especially in the field of economy, culture, sports, people-to-people contacts, etc. It would also work as a common platform for Bangladesh and Italy at a time when Bangladesh and Italy have just celebrated the Golden Jubilee of the establishment of diplomatic relations.
As per statute, the Association will be headed by two Presidents, one Vice President, and one Director and in total 11 (eleven) Board Members.