After 45 years of closure, Argentina re-opens its Embassy in Bangladesh and signs a Visa waiver agreement for the holders of diplomatic and official passports.
A 34-member high-level Argentine delegation, led by Argentine Minister of Foreign Affairs, International Trade, and Worship Mr. Santiago Andres Cafiero, is paying a two-day historic debut-state level visit to Dhaka from  27th of  February to 1st  of March 2023. The Non-resident Ambassador of Argentina to Bangladesh, Under Secretary of Trade, and Chief of Cabinet to the Argentine Foreign Minister is also accompanying the Minister, among others.
Foreign Minister Dr. A K Abdul Momen,  received his Argentine counterpart this morning at the Hazrat Shahjalal International Airport – a warm and elegant welcome for a promising friendship between the two nations. Later, the visiting Minister led a delegation to the Brac Foundation. The purpose was to learn from the Brac development programs and success stories focusing on women's empowerment and rural women's financial inclusion. Both sides agreed to collaborate to share knowledge on how to bring about financial inclusion in a responsible manner to pull millions of vulnerable women in rural and urban areas of Argentina out of poverty.
Mr. Santiago had a meeting with Foreign Minister Dr. A K Abdul Momen at the State Guest House Jamuna, here this evening. Dr. Momen expressed gratitude to the Argentine government for reopening its diplomatic mission in Dhaka.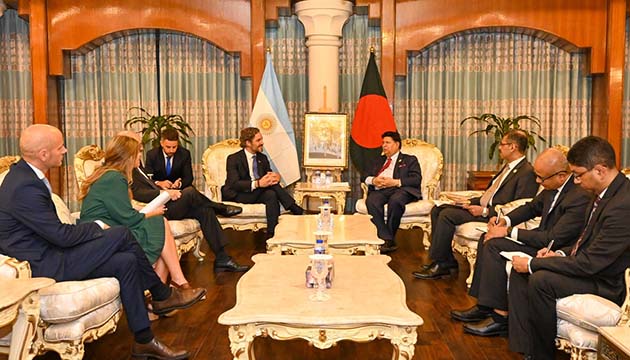 The Foreign Minister expressed interest in wider cooperation between Bangladesh and Argentina in the areas of agriculture, agro-processing, cattle & poultry industries, biotechnology, pharmaceuticals, ICT sector, heavy and light machinery, and equipment. Both Foreign Ministers emphasized on the importance of enhancing close collaboration to increase bilateral trade and investment. Dr. Momem urged the Argentine investors to invest in the Special Economic Zones taking advantage of the investment-friendly environment and the incentives offered to foreign investors that will help bring down the trade deficit. He expressed hope that Argentina would support Bangladesh's initiative to sign FTA with the MERCOSUR countries during its current presidency.
In response, the Argentine Foreign Minister advised pursuing a Preferential Trading Arrangement (PTA) instead of an FTA. He also made requests to consider lowering the existing 35% duty imposed by Argentina on RMG products and withdrawing $ 0.16/Kg anti-dumping duty on Bangladeshi Jute Bags and Sacks to have greater market access.
Prior to the meeting, a Visa waiver agreement for the holders of diplomatic and official passports, an Agreement on Football Cooperation, and a Memorandum of Understanding between Foreign Service Academies on Training Cooperation were signed. Both Foreign Ministers signed the instruments on behalf of their respective governments. The signing of these instruments will contribute to strengthening bilateral relations between the two friendly countries including people-to-people contact.
Earlier this afternoon, the Argentine Foreign Minister inaugurated the Embassy in Dhaka. State Minister for Foreign Affairs, Md. Shahriar Alam was present as the Guest of Honour. In his remarks, Shahriar Alam highlighted that the reopening of the Argentine mission in Bangladesh is not just a diplomatic gesture, but it is an emotional one as well. It is a reflection of the strong bond of friendship that exists between our nations and peoples. This will open up new potential for collaboration in all possible areas of mutual interest.
Foreign Minister hosted a dinner in honor of the visiting Argentine delegation led by the Argentine Foreign Minister at the State Guest House, Jamuna.