All stakeholders must be held accountable for workplace safety and labor rights – U.S. Ambassador Peter Haas.
The U.S. Ambassador Peter Haas said, Ten years ago, on April 24, the Rana Plaza building collapsed, killing more than 1,100 workers and injuring thousands more. Rana Plaza was the worst-ever industrial accident to hit the garment industry.  It was also the beginning of a renewed struggle to improve workers' rights and ensure safe factories for all.
We are here today to remember the workers who lost their lives, and to express our deepest sympathies to the families and friends who still mourn the loss of their loved ones. We are also here to honor the memory of those workers by reimagining a Bangladesh with safer working conditions, greater rights for workers, and increased accountability among all stakeholders—governments, brands, manufacturers, suppliers, consumers, workers, and trade unions.
And we are here to take stock of how the garment industry has changed over the past ten years.  We are also here to talk about where more work remains to be done, not only in the garment sector, but throughout the entire economy.Rana Plaza drew the world's attention to unsafe conditions for Bangladesh's factory workers and raised important questions around safety and transparency in the global garment industry. Workers stood in solidarity and said, "enough is enough" and the world agreed that such an accident should never happen again.
And I'm pleased to say that because of the tireless efforts of many in this room, we have seen positive changes, particularly in the RMG export sector.
Today, garment factories are safer due to agreements among unions, global brands, and employers who worked together under the former Accord and Alliance.
The Government of Bangladesh has also done important work in the last decade to build a stronger body of labor laws and policies.
Bangladesh has digitized the trade union registration process, which should help workers form unions and complete their registrations in a timely fashion.  They have also digitized the labor inspection system to improve data accessibility and transparency. This is tremendous progress.  But it is nowhere near enough.  As Bangladesh moves to graduate from LDC status, more will be expected of it.
Not only that, but in order to become a SMART, developed Bangladesh by 2041, workers safety and labor rights will need to become ingrained in Bangladesh's ethos.
In that regard, let me suggest three areas where Bangladesh might focus going forward.  First, we recognize the progress that Bangladesh has made.  At the same time, I want to highlight the need for greater progress in industrial safety beyond the export-oriented RMG sector.
Just last week, there was a massive fire at the popular Bangabazar clothing market in Dhaka that destroyed several thousand shops.  This left a terrible mark on thousands of families, shattering their livelihoods.
This was not an isolated incident.  We are all aware of the recent explosion at the Seema Oxygen Plant, the fire at a container depot in Chittagong, and the Hashem food factory fire.
These examples illustrate the need for stronger inspections and enforcement of labor laws across all industries and sectors.Health and safety standards must protect everyone no matter where their products end up, and no matter where they work.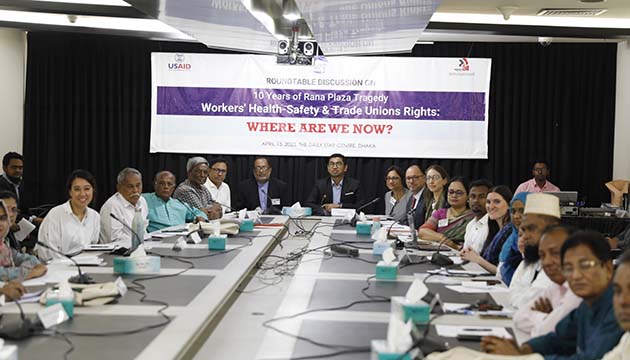 Second, Bangladesh should further strengthen the right of workers to form and join independent trade unions and to collectively bargain for better working conditions.
The rights to freedom of association and collective bargaining are enabling rights for the realization of all other labor rights. Around the world, unscrupulous employers will inevitably cut corners on safety, resulting in preventable worker injuries and deaths. We know that when workers can form or join independent unions, they can defend their rights and collectively advance their interests.
In fact, the decrease in work-related accidents in the industrialized world is largely due to the courageous efforts of organized labor.Unionized workers are empowered to negotiate conditions more equally with employers to demand better wages and challenge unsafe working conditions.  Unions also play a key role in advancing democratic values at the workplace. Workers must also have access to remedies for labor and safety violations.
Collective bargaining agreements can protect workers who refuse precarious work assignments or confront management on health and safety concerns.
Third, all stakeholders must be held accountable for workplace safety and labor rights.
Improving occupational safety and health and labor rights is a shared responsibility.  Government, manufacturers, brands, buyers, workers, unions, and consumers each have a crucial role to play to make sure that goods are produced safely and that everyone in the process earns a fair return.
Governments must play their critical role of developing strong labor protections and ensuring that they are respected. Manufacturers must make it a priority to keep their workers safe and to find ways to collaborate with their workforce.
International brands and buyers must do more to demand that labor rights are respected throughout their supply chains.  This means adopting purchasing and pricing practices that support a living wage and promote high labor standards among their suppliers. Workers and their unions must advocate for their rights transparently and peacefully. And consumers must be mindful of the working conditions of the people who make the products they buy.
In closing, let us boldly look ahead to a better future.. 
We are at an important moment of reimagining the future of Bangladesh as it marches towards developed country status.  The full realization of labor rights will help pave the way to this future. So let us imagine a future where workers are empowered to raise their voices against abusive labor practices through democratic independent unions.
Where businesses protect labor rights through supply chain due diligence and accountability. And where governments ensure decent work through strong labor laws and enforcement. And where consumers choose products that are made in places where the health, safety, and rights of workers are protected.
I believe that through our collective work and commitment, we can continue to make progress in creating sustainable manufacturing that will support workers, the industry, and the economy. And only then will we be able to hold true to our collective response of saying, "Never again.