Ambassador Enrico Nunziata visits the Embassy of Bangladesh in Rome.
Italian Ambassador to Bangladesh Enrico Nunziata visited the Embassy of Bangladesh in  Rome on 23 August 2021. He was warmly received at the Chancery and introduced with the diplomats of the Embassy by Md Shameem Ahsan, Bangladesh Ambassador to Italy. The visit, unofficial though, was extremely rewarding for both sides as it offered an opportunity to share thoughts and ideas on a number of important issues.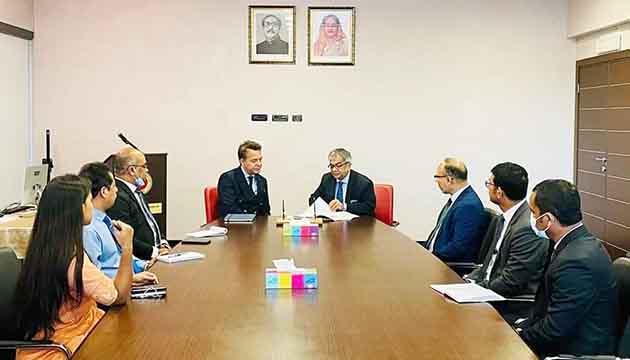 Both Envoys expressed satisfaction in the extremely cordial bilateral relations between Bangladesh and Italy, which reached a new height after the official visit of Prime Minister Sheikh Hasina in February 2020. Celebration of the 100th birth anniversary of Father of the Nation Bangabandhu Sheikh Mujibur Rahman, the celebration of 50 years of the establishment of the diplomatic relations, the situation of covid-19 in both countries, and return of stranded Bangladesh nationals to Italy, signing of some MoUs/Agreements in near future, the interest of the Italian energy giant Eni in Bangladesh in the context of growing economic and trading relations, the welfare of the expatriate Bangladesh community including the continuation of Bangladesh in the future under the Flussi Decree, among others, figured prominently.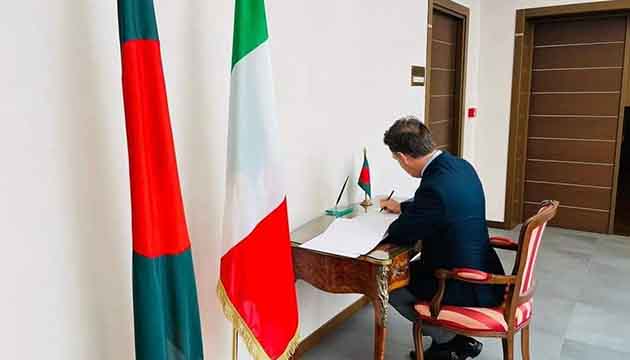 Ambassador Enrico Nunziata also visited the Bangabandhu Corner of the Embassy and appreciated the collections. Ambassador Md Shameem Ahsan thanked the Italian Ambassador for being extremely supportive in promoting bilateral relations especially for his love and affection for the Bangladesh diaspora. Italian Ambassador also sincerely thanked the Bangladesh Ambassador and his team for their warmth and cooperation.