Authorization Certificate to BAF fighter plane Overhauling unit by China handed over
Handing Over Ceremony of Authorization Certificate to 214 Maintenance, Repairing and Overhauling (MRO) Unit of Bangladesh Air Force by Original Equipment Manufacturer (OEM) of China as a recognition of successful overhauling of Fighter Aircraft was held on 23 April 2019 at BAF Base Bangabandhu Kurmitola, Dhaka.
Security Adviser to the Hon'ble Prime Minister of the Govt of the People's Republic of Bangladesh Major General (Retd) Tarique Ahmed Siddique, rcds, psc was present as the Chief Guest in the ceremony.
Earlier, there was no overhauling facility for fighter aircraft in BAF. Before Chinese fighter aircraft were required to send for overhauling in China after certain period of time. It not only consumed enormous time but also incurred huge amount of foreign currency. Now, lot of foreign currency along with valuable time can be saved due to the setup of MROU. BAF has also stepped ahead in achieving operational capability. Considering the success of 214 MROU China has awarded certificate to this unit as an "Authorized Overhauling Unit for F-7 series aircraft".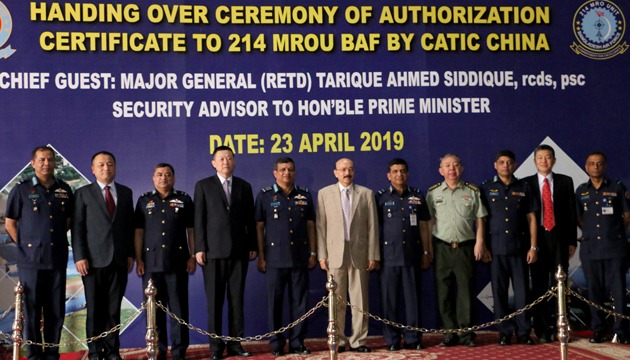 To achieve self-reliance and fulfill the dream of the father of the Nation Bangabandhu Sheikh Mujibur Rahman, Bangabandhu Aeronautical Center (BAC) has been established under the visionary leadership of Hon'ble Prime Minister Sheikh Hasina on 04 Nov 2011. BAC was set up with the technical assistance of JILIN aircraft maintenance company limited of Chinaand 214 MROU BAF is an integral part of BAC. At present, BAF technicians are capable of carrying out overhaul of F-7 series aircraft independently. It may be mentioned that the first overhauled aircraft by BAF technicians independently was handed overto BAF users on 03 Sep 2018. At present, another 03 aircrafts are undergoing overhaul by BAF technicians.
In his speech the chief guest congratulated 214 MROU, BAF for receiving certificate as authorized overhauling unit for F-7 series aircraft. He also thanked the Govt of China for co-operation and hoped for strengthening ties between Bangladesh and China. He hoped that this unit will be able to contribute and play vital role in manufacturing aircraft in the coming days which is a dream of our Hon'ble Prime Minister.
Chief of Air Staff Air Chief Marshal Masihuzzaman Serniabat, BBP, OSP, ndu, psc also expressed his satisfaction for receiving the authorization certificate from JILIN, China and he also hoped that operational activities will be accelerated further in future.
Chief of acting Army and Naval staff, Former Air chiefs, senior BAF officers, representative from the Embassy of People's Republic of China in Bangladesh and other military & civil high officials were also present on the occasion.