Bangabandhu's Sonar Bangla is no longer a dream, it is a mission possible .
Bangabandhu's "Sonar Bangla" is no longer a dream, it is a mission possible. It is a mission of all 170 million of our nationals who are working home and abroad. It is indeed our duty, our responsibility for our children and theirs. This was prevailing sentiment as were expressed by speakers in The Hague as they gathered to commemorate National Mourning Day in the Embassy of Bangladesh there. While paying their homage and tributes to our Father of the Nation Bangabandhu Sheikh Mujibur Rahman and members of his family who attained martyrdom on the fateful day of 15 August 1975, the speakers resolved to make Bangabandhu's dream of "Sonar Bangla" a mission of their own.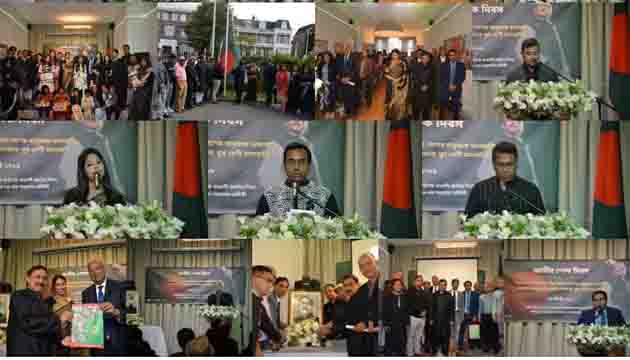 Embassy officials along with members of the family, former Deputy Mayor of The Hague along with wife, leaders of the Netherlands Awami-League, expatriate Bangladesh community and Bangladeshi students studying in different Dutch universities attended the program.
The programme of the day commenced by hoisting the National Flag at half-mast at the chancery premises by Ambassador Sheikh Mohammed Belal in presence of all members of the community gathered to commemorate 44th martyrdom of Father of the Nation. The programme begun with the recitations from the Holy scriptures followed by one-minute silence to pay homage to the departed soul of Bangabandhu Sheikh Mujibur Rahman, the members of his family and the other martyrs. National Mourning Day messages from Hon'ble President, Prime Minister, Foreign Minister and State Minister for Foreign Affairs were read out by officers of the mission.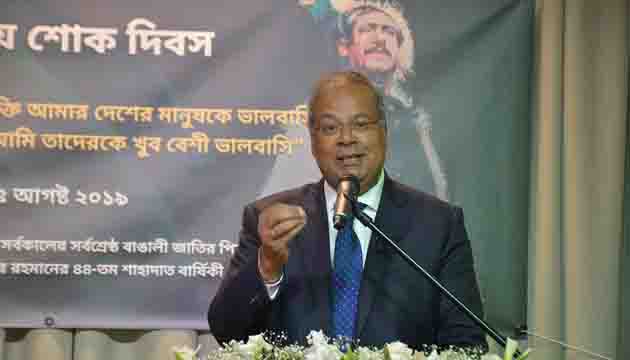 The leaders of the Netherlands' Awami-League Mr. Mostafa Zaman, Mr. Murad Khan and Mr. Imran Hossain delivered their speeches in remembrance of the Bangabandhu. They highlighted Bangabandhu's ideals, struggle, sacrifice and reiterated his determination for working hard to place the foundation of "Sonar Bangla". They also condemned the heinous incident of 15 August as the darkest part of the history of Bangladesh. However, they expressed their satisfaction on partial execution of the verdict of the Court and demanded immediate extradition of the absconding killers of Bangabandhu for execution of the court verdict. They also praised the able leadership of his daughter and mentioned that the government of Hon'ble Prime Minister Sheikh Hasina is, indeed, turning the dream of 'Sonar Bangla' a reality.
As special guest, Mr. Badrul Hasan, a Professor of Dhaka University who is undergoing higher studies in the Netherlands, presented a paper titled 'Bangabandhu's political philosophy in development of Bangladesh'. During his remarks, he highlighted how Bangladesh is attaining landmark achievements one after another in both national and international arena. He further stated that Bangabandhu is the integral part of Bangladesh and his contribution in nation building is indispensible. His courage knew no bounds and the word fear did not exist in his dictionary. He paid rich tributes to Bangabandhu for his fearless leadership of the Bengali nation's emancipation towards its independence and sovereignty in 1971, as well as his diplomatic achievements between 1972 and '75 towards Bangladesh's international recognition and membership in the UN.
Paying deep tribute to Bangabandhu Sheikh Mujibur Rahman, H.E. Mr. Rabin Baldewsingh, former Deputy Mayor of The Hague termed Bangabandhu as the best son of Bangladesh who enthralled the whole Bangladeshi with his poetic speech of 7 March. He described Bangladesh as the country of peace and harmony which he witnessed during his visit to Dhaka in April 2019. Mr. Rabin was highly appreciative of Bangaldesh's development journey and termed Bangladesh as a development surprise with world's one of the highest growth rate in the world. He congratulated Bangladesh for refuting the prediction of Henry Kissenger as 'bottomless basket'. He appreciated the positivism of Bangladeshi people and hoped that their collective efforts would drive Bangladesh towards achieving the dream of Bangabandhu's 'Sonar Bangla'.
H.E. Sheikh Mohammed Belal, Ambassador of Bangladesh in the Netherlands in his statement, while paying tributes and homage to the best Bangalee of all time, the architect of Bangladesh, Father of the Nation Bangabandhu Sheikh Mujibur Rahman, drew attention to his unmatched qualities in loving his own people. He mentioned that, Bangabandhu's love, dedication and vision for the country were second to none and his lifelong struggle to liberate the Bengalis from the Pakistani colonial masters has inspired many aspiring to be free across the world. Terming Bangabandhu as a blessing to give us a free nation, Ambassador Belal highlighted indomitable spirit of Bangabandhu as he gave reference to other leading figures who were either contemporary or played a role as Founding Father of a nation. Citing excerpts from "Prisoner Diary" of Bangabandhu, Ambassador Belal highlighted how Bangabandhu appreciated the spirit of French revolution as it essentially freed the oppressed from the elites and had, therefore, always stood there for the oppressed. When in 1973, Bangabandhu attended the NAM summit in Algiers, he elevated our diplomacy to a whole new level with his unmatched participation and swarming of world leaders like Marshall Tito of Yugoslavia, Fidel Castro of Cuba, Indira Ghandi of India, Boumedin of Algeria, Nayar of Tanzania etc around Bangabandhu. Due to his political prudence and indomitable courage a war torn country made its beginning towards a developing country as a free nation. Ambassador Belal also paid tributes to Bangamata Fazilutenessa Mujib who stood by our Father of the Nation like a calming shadow throughout his life. It was Bangamata who, perhaps, endured the most when Bangabandhu was in captivity yet remained her calmness and helped upbringing their children with proper education and priceless human values.
Ambassador Belal further mentioned that the untimely demise of Bangabandhu not only made our development challenging but also created a scarcity of leadership in the political regime of Bangladesh. However, under the leadership of Hon'ble Prime Minister Sheikh Hasina, Bangladesh found its lost hope and a way to turn around. He called upon the expatriate Bangladeshis to uphold the image and profile of Bangladesh in Netherlands emulating the progressive, tolerant and non-communal Bengali values upheld by Bangabandhu throughout his life. Ambassador Belal also urged all to do their part as a modern-day freedom fighter through implementing ideals of Bangabandhu through their deeds. He urged all to follow the path shown by the Father of the Nation and devote themselves in actualizing Bangabandhu's dream of "Sonar Bangla" into reality under the able leadership of his daughter, Mother of Humanity Prime Minister Sheikh Hasina.
In an effort to motivate our children to know more about Bangabandhu, a segment of the program was dedicated for the children. Children put their efforts to share their knowledge and thoughts on Bangabandhu and his values. To inspire them, Dr. Dilruba Nasrin, wife of the Ambassador, presented token of gift to all the children who participated in the programme. Later, a special prayer (munajat) was offered seeking eternal peace and salvation of the departed souls of the August 15 carnage and for continued peace, progress and prosperity of our motherland. The programme was wrapped up by with the screening of a documentary titled: Those Golden Days featuring the life and achievements of Bangabandhu.
Braving inclement weather and the burden of a working day, a good number of expatriate Bangladeshi gathered to commemorate the day. The Embassy also took the opportunity to brought to the audience the exciting news of a new apps, available in the Apple apps store, named Dutabash enabling our NRBs to avail all kind of consular services online. It was also announced that the Embassy of Bangladesh, The Netherlands will organize an art exhibition titled "Remembrance of Bangabandhu" at the Embassy from 29 – 31 July 2019 and urged all to visit the exhibition with their Dutch friends and families.