Bangladesh Ambassador to the United States shares Bangladesh's development journey with US Senators
Bangladesh Ambassador to the United States Mr. Muhammad Imran shared the recent socioeconomic advancement of the country with two US Senators in Washington DC last week when he met them as a part of the Embassy's outreach program to further bolster the bilateral relations with the USA.
Ambassador Imran met Senator Jeff Markley (D-Oregon) and Senator Bill Hagerty (R-Tennessee) at their respective offices in the US capital last week. Both Senator Jeff Markley and Senator Bill Hagerty are members of the Senate Committee on Foreign Relations.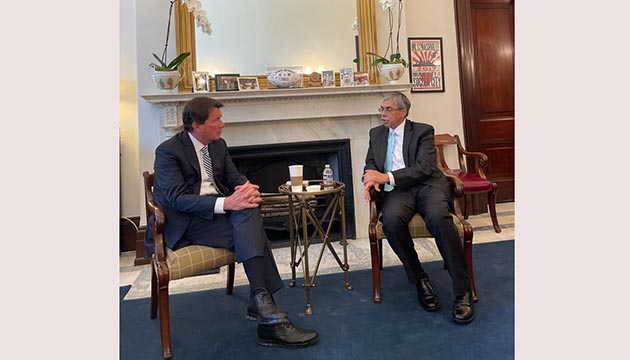 The Ambassador apprised the US lawmakers of Bangladesh's impressive socioeconomic development that took place in the last 15 years under the visionary and dynamic leadership of Prime Minister Sheikh Hasina.
Ambassador Imran highlighted the progress made during this period in all social indicators including human development, health, poverty alleviation, women empowerment, and gender equality. He also briefed them about the massive infrastructure development in Bangladesh.
The US Senators praised Bangladesh's socioeconomic progress and expressed their keen interest in expanding the Bangladesh-US ties. They also applauded Bangladesh's generosity in hosting over 1.4 million Rohingya refugees and assured of continued support for them.
The Ambassador thanked the United States for their support on the Rohingya issue, and urged them to take necessary measures for the repatriation of the forcibly-displaced Rohingyas to their homeland.
Senator Jeff Markley mentioned the special relations of his state with Bangladesh through the State Partnership Program between the Oregon National Guard and Bangladesh Armed Forces and expressed hope that US- Bangladesh relations would be further consolidated through future interactions.
During the meeting with the Bangladesh Ambassador, Senator Bill Hagerty, a former US Ambassador to Japan, showed interest in Bangladesh's development experience.