Bangladesh and the Netherlands agree to further deepen bilateral ties, particularly in the economic field.
Bangladesh and the Netherlands agreed to further deepen bilateral ties, particularly in the economic field. This was revealed at the Fifth Foreign Office Consultations between Bangladesh and the Netherlands held on 21 May 2023 in Dhaka. Bangladesh and the Netherlands also agreed to deepen cooperation in trade and investment, implementation of Bangladesh Delta Plan 2100, human resources development, food and agriculture, ICT and digital economy, and regional and global issues of common interest and concern, including global peace and security, water and climate change, delta management, SDGs, etc. Foreign Secretary (Senior Secretary) Masud Bin Momen and Secretary-General of the Ministry of Foreign Affairs of the Kingdom of the Netherlands Paul Huijts led respective delegations at the Foreign Office Consultations.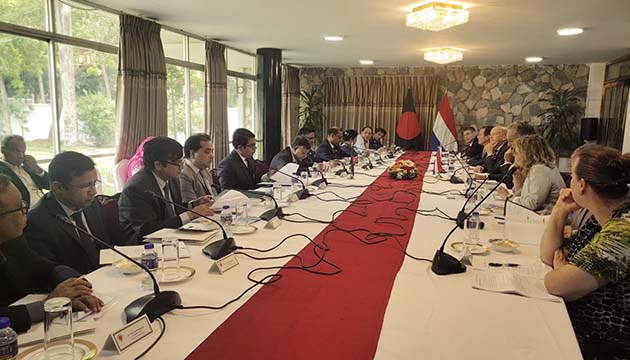 Highly praising Bangladesh's socio-economic development successes including graduation from the LDCs, the Dutch Secretary-General assured to continue their support for the diversification of Bangladesh's economy. Foreign Secretary Momen acknowledged Dutch development cooperation over the years for Bangladesh's socio-economic advancement and assured to extend all necessary cooperation to further promote Dutch business and investment in Bangladesh.
Bangladesh appreciated the Netherlands for its support in Bangladesh's water resources management, food security, skills development, RMG, etc. sectors. Both sides also shared perspectives on increased economic collaboration between the two countries in the post-LDC graduation period.
The two sides recognized that entrepreneurs, SMEs, and businesses can engage in mutually gainful collaboration on knowledge–innovation – solutions in wide-ranging areas like water efficiency, digitalization, circularity, energy, climate adaptation, maritime, design thinking, sustainability, and agriculture. They encouraged all stakeholders in business and government to conduct structured business interactions at regular intervals, including the exchange of trade missions, to deepen trade-investment-knowledge collaboration between the two countries.
The two sides also discussed developments in the region, including the importance of increasing cooperation and connectivity between the EU and the Indo-Pacific region and opportunities for strengthening Bangladesh – Netherlands cooperation in multilateral fora. The Netherlands expressed its gratitude for Bangladesh's hosting of around 1.2 million Rohingyas and recognized the importance of the ongoing international efforts on securing justice and accountability for human rights violations committed in Myanmar. The two sides also expressed their commitment to working with the international community on a safe, sustainable, and voluntary return of the Rohingya to their homeland, Myanmar. A Joint Statement was issued after the Foreign Office Consultations.