Bangladesh Armed Forces Day celebrated in Pakistan
The 48thAnniversary of the Armed Forces Day of Bangladesh was celebrated in Islamabad, Pakistan with festivity and due solemnity.
Defence Wing of Bangladesh High Commission organized a reception to mark the day at Hotel Marriott, Islamabad in the evening on 21st November 2019.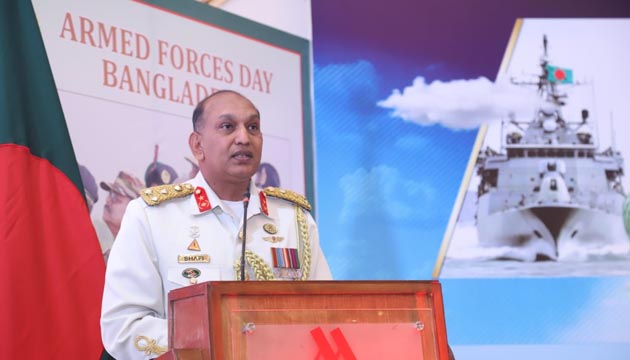 In his welcome address, Defence Advisor of Bangladesh High Commission Brigadier General KhondakerShafiur Rahman thanked the guests and highlighted the significance of the Armed Forces day of Bangladesh. He said that atthe call of our Father of the Nation Bangabandhu Sheikh Mujibur Rahman, the Bengali nation joined the war of Liberation in 1971. Till mid of November elements of three services were fighting independently, but on this day in 1971 for the first time all three services conducted synchronized operation under an unified command against occupation force which expedited the momentum of the victory of Bangladesh. That is why 21st November is duly observed as the Armed Forces day of Bangladesh.He remembered our Father of the Nation Bangabandhu Sheikh Mujibur Rahmanwho laid a strong foundation of Armed Forces with his dynamic leadership and vision. The modernization of Bangladesh Armed Forces has been continuing ever since under the leadership of the Hon'ble Prime Minister Sheikh Hasina during.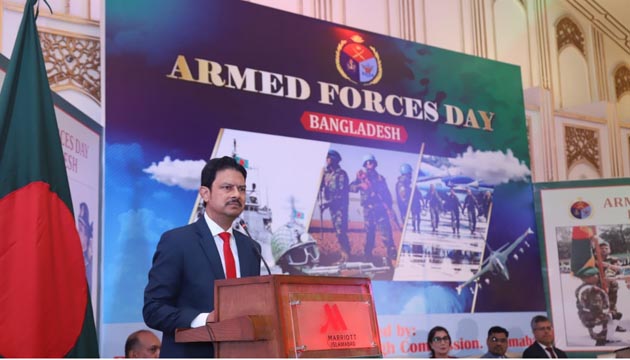 High Commissioner Tarik Ahsan paid his rich homage to the memory of the Father of the Nation Bangabandhu Sheikh Mujibur Rahman who led the Bengali nation on its path to liberation. He also paid the glowing tribute to all the martyrs, particularly those fallen heroes of Bangladesh Armed Forces who made supreme sacrifice during great War of Liberation. In his speech, the High Commissioner added that the spirit of Liberation War permeates among the members of Armed Forces every day and gives them the unflinching resolve to protect the independence and sovereignty of the country at any cost.
Following the speeches, a decorated Armed Forces Day cake was cut jointly by theDean of the Diplomatic Corps, High Commissioner of Bangladesh, Ambassadors and High Commissioners of SAARC countries and Defence Advisor of Bangladesh. Later, a video-documentary on the Exercise 'BajraAghat' was screened.
A largenumber of Ambassadors, High Commissioners, Defence Advisors of different Missions based in Islamabad, Members of Parliament, civil and military officials, local dignitaries, members of Bangladesh community and officials of Bangladesh High Commission attended the reception.