Bangladesh at the UN seeks the international community's support in implementing the Rohingya pilot repatriation project.
We urge the United Nations, ASEAN, and regional countries to support the pilot repatriation project and help the Rohingya returnees reintegrate in Myanmar"- said the Permanent Representative of Bangladesh to the United Nations in New York Ambassador Muhammad Abdul Muhith while speaking at the Security Council aria formula meeting on Myanmar. The meeting convened by the United Kingdom was held at the United Nations Headquarters today.
Referring to the recent dialogue between Bangladesh and Myanmar, Ambassador Muhith informed the Security Council that the two sides have decided to undertake a pilot repatriation project under which a group of verified Myanmar nationals will return to Myanmar in the first batch. The repatriation will continue and additional Rohingyas will be repatriated in successive batches. He further informed that a group of 20 Rohingya visited Rakhine State on 5 May 2023 to see arrangements made in Myanmar for their return.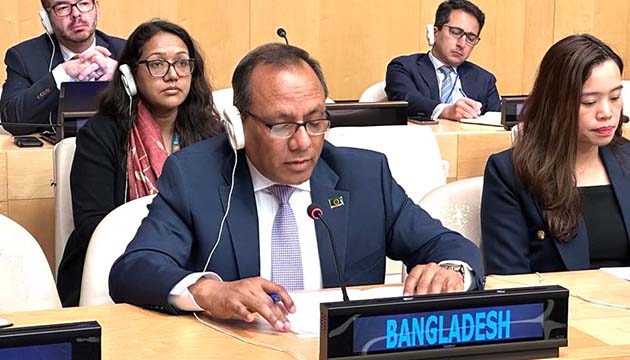 Citing the pilot project as an important step in the right direction, Permanent Representative said that Bangladesh is taking all measures to ensure the voluntary return of the Rohingyas to family units. Ambassador Muhith called upon the international community to remain vigilant so that the returnees under the pilot project are not exposed to further persecution."The presence of humanitarian and development actors in the Rakhine will act as an important confidence-building measure. We also urge the regional countries to support the returnees and help them reintegrate into Myanmar society," he added.
The meeting held in in-person format was participated by all Security Council members and a large number of member States from the ASEAN.
The Council members discussed the current humanitarian challenges in Myanmar including in the aftermath of Cyclone Mocha. They also expressed support for the efforts of ASEAN in addressing the multifaceted challenges of Myanmar. On the Rohingya issue, the majority of the members expressed support for the safe, voluntary, sustainable, and dignified return of the Rohingyas to their homeland in Myanmar, while calling upon Myanmar to improve the condition in Rakhine.
***