Bangladesh becomes a role model in the field of women empowerment in the world, says Bangladesh Foreign Minister.
Leading women business leaders and entrepreneurs here today underscored the need for full inclusion of womenfolk in the country's fast pacing development growth for achieving the United Nation's Sustainable Development Goal (SDG) five related to gender equality and women empowerment.
They said Bangladesh has made commendable success in achieving women empowerment in last couple of decades though more government support is needed to establish a gender equal society. Bangladesh Chapter of Entrepreneur Organization (EO), the world's largest peer-to-peer global network of entrepreneurs organized the summit styled "She Rokers MyEO women summit" and "She Rockers MyEO Women SDG Award 2019" at Hotel Radission Blu in the capital.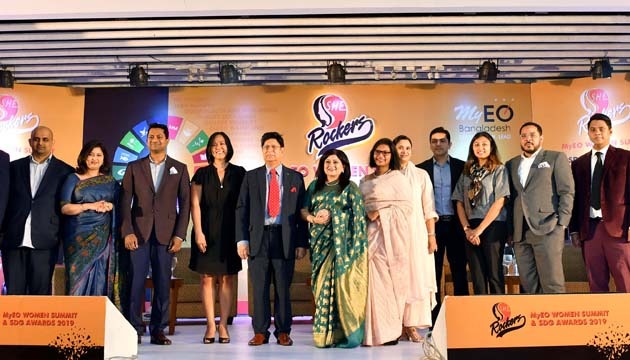 Foreign Minister Dr AK Abdul Momen inaugurated the summit as the chief guest while Global Chairperson of Entrepreneur Organization (EO) Bubu Andres joined as guest of Honor. President of EO Bangladesh Chapter Farzana Chowdhury gave the welcome speech.
The Foreign Minister said Bangladesh is becoming a role model of women empowerment in the world under dynamic leadership of Prime Minister Sheikh Hasina as women here are now in the leadership positions at every sphere of national and social life.  Describing various far-reaching and wide-ranging measures taken by the government to ensure the holistic empowerment of women, Dr Momen said Bangladesh government introduced gender budget that is unique in the world.
"Women's empowerment is one of the ten Special Initiatives of our honorable Prime Minister Sheikh Hasina, the progress of which she oversees herself, he said. EO Bangladesh is striving to provide a platform for women entrepreneurship which is quite aligned with the Prime Minister's vision, the minister added. Bubu highly lauded the achievement of Bangladeshi women entrepreneurs and said the country's women are largely helping Bangladesh to keep it on the right path of development.
"Women are leading the world staying side by side with men and putting their mark of excellence everywhere. But barely do we know about their success and challenges throughout this journey," she said Farzana said women empowerment is very important to achieve the country's desired development goals.
"No change is possible exclusion of women," she added.  "She Rockers" is an initiative for honoring and inspiring entrepreneurship of women of Bangladesh as talent must be nurtured; achievements and endeavor must be encouraged," she said.Two panel discussions were also held in two phases, about women empowerment and equality of men and women.
At the end of the summit, the EO Bangladesh chapter will confer award to 21 Bangladeshi women entrepreneurs in recognition of their contribution to achieve SDG-5 that targets for gender equality and empower all women.
The EO is a Global business network of more than 13,000 leading entrepreneurs in 58 countries that enables business owners to learn from each other. In 2016, EO Bangladesh chapter started its journey here with the country's leading entrepreneurs.