Bangladesh calls for deeper cooperation with India for mutual benefit.
Foreign Minister Dr A K Abdul Momen emphasized synergized efforts and mutually beneficial partnerships between Bangladesh and India for the betterment of the lives and livelihoods of the people of the two countries. He expressed this in his remarks delivered as the Chief Guest at the event organized by the High Commission of India in Dhaka on the occasion of the 74th Republic Day of India. A number of Cabinet Ministers, Ambassadors and high dignitaries attended the said event.
Foreign Minister gratefully recalled the crucial role played by the people and Government of India during the War of Liberation of Bangladesh in 1971 led by the Father of the Nation, Bangabandhu Sheikh Mujibur Rahman. In this context, he enthusiastically termed India as Bangladesh's closest neighbour both in terms of bilateral relations and geographical proximity.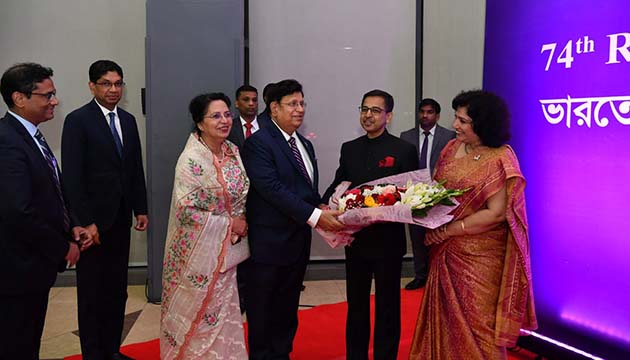 Dr Momen highlighted the transformative changes in the bilateral ties between the two countries in recent years and added that it had reached a new height under the leadership of the two Prime Ministers. He further emphasized that the visit of Prime Minister Sheikh Hasina to India in September last year has added new momentum to the excellent bilateral relations already existing between the two countries.
Expressing satisfaction over the rapidly growing bilateral trade that increased three-fold during the last decade, he urged for enhancing bilateral trade in a balanced manner addressing all trade barriers. He stressed on complimenting each other's economy for the prosperity of both countries. In this regard, he added that each year, India receives the highest number of tourists including medical tourists from Bangladesh while a significant number of Indians are working in various service sectors in Bangladesh.
The Foreign Minister emphasized the possible partnership of the two close neighbours in the region for addressing the global challenges including the impacts of COVID-19, the crisis in Europe and the imminent global economic recession. He thanked India for inviting Bangladesh as a 'Guest Country' at the G20 Summit to be held in September 2023 under the Presidency of India. He also expressed hope that the two countries would continue to work together for the betterment of the two peoples and for shared peace and prosperity in the region.