Bangladesh Embassy in Seoul has participated in the Import Goods Fair (IGF)-2019
For the first time ever Korea-Bangladesh Chamber of Commerce and Ind participated at the Import Goods Fair (IGF) 2019 with 10 different companies with the assistance of the Embassy of Bangladesh, Seoul, held in Coex Mall from 27-29 June 2019. Korea Importers Association (KOIMA) has been organizing this Fair for a long time to showcase the new products those are imported from the partner countries annually. This year 129 companies of 45 countries including Bangladesh have attended the IGF 2019. Bangladesh has displayed its exportable items to the visitors through the installation of 12 Booths participated by NPOLY, Meghna Group of Industries, ZEESHAN, MUNSHI, Index Accessories Ltd, Novo Cargo Services Ltd., Genetica Agro and A & L Limited.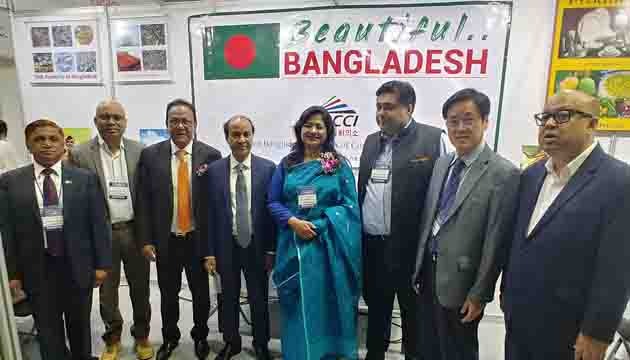 02. Mr. Hong Kwang-hee, Chairman, KOIMA inaugurated the IGF 2019 on 27 June in presence of the Ambassadors/Diplomatic representatives of the participating countries. After the inauguration, along with the dignitaries, he visited different pavilions/stalls in the Fair. When the KOIMA Chairman and other Ambassadors visited Bangladesh Pavilion, Ambassador Abida Islam, President of KBCCI Mr. Mostafa Kamal and officials of the Embassy and the KBCCI welcomed them. Bangladesh Ambassador then presented traditional handicrafts to the KOIMA Chairman. KBCCI president also honored the KOIMA president by giving him a crest from the 'KBCCI'. During the fair, exhibits like RMG products, jute and leather products, T-shirts, bangles, ceramic products, Agro products, Cargo services, IT services and Products and different types of food items were displayed in the Bangladesh Pavilion which attracted the dignitaries and the visitors. It is mentionable that Korean Businessmen showed their deep interest on the leather goods and ceramic commodities of Bangladesh. About two hundred visitors and businessmen from different countries visited Bangladesh Pavilion at the Fair. KBCCI Business delegation attended the B2B meeting arranged as the side line event.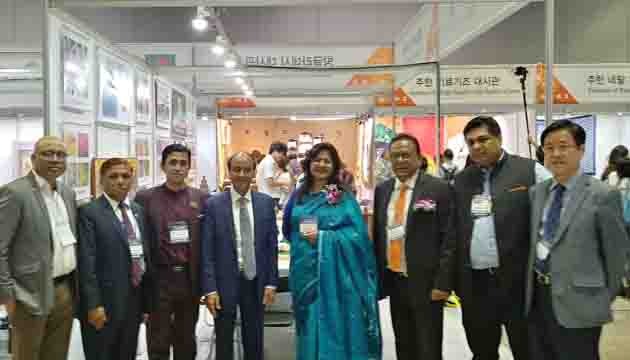 03. Participation of Bangladesh in the Import Good Fair in 2019 has provided Bangladesh an opportunity to present its unconventional products which generated enthusiasm among the Korean businessmen. Many of them enquired about these products with interest. These enthusiasm and interest may assist us to create a future market for these products in Korea which is expected to would further strengthen our bilateral commercial relationship.