Bangladesh Embassy in Seoul observes the 91st Birth Anniversary of Bangamata Fazilatun Nessa Mujib
The Embassy of Bangladesh in Seoul observed the 91st Birth Anniversary of BangamataFazilatun Nessa Mujib in a befitting manner by organizing an online discussion programme.
The online event included observance of one-minute silence in memory of BangamataFazilatun Nessa Mujib including the Father of the Nation and the martyred family members followed by the reading out the messages of the Hon'ble President and the Hon'ble Prime Minister. A documentary on the life and contributions of BangamataFazilatun Nessa Mujib was also screened during the programme. Afterwards, a session on discussion and commemoration of the life and works of BangamataFazilatun Nessa Mujib took place.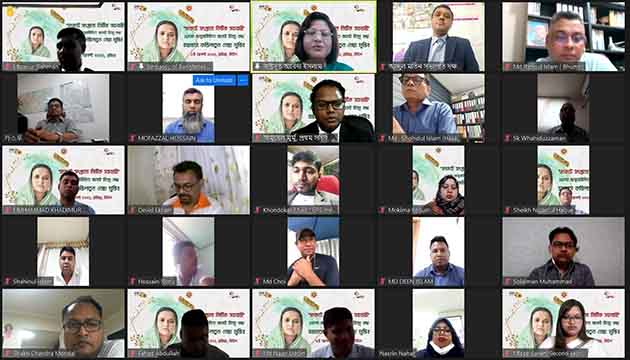 Ambassador Abida Islam in her speech paid rich tribute to the memory of BangamataFazilatun Nessa Mujib on the occasion of her birth anniversary. She mentioned that BangamataFazilatun Nessa Mujib faced the difficult days with firmness and courage during Bangabandhu's frequent imprisonments and remained a source of inspiration, and courage to Bangabandhu throughout her life.  She mentioned that the intellect and prudence of BangamataFazilatun Nessa Mujib immensely helped Bangabandhu in decision makings, in organizing the party and in taking forward the movement for independence.
The discussants highlighted the glorious life of BangamataFazilatun Nessa Mujib as well as her valuable contributions to the attainment of independence and to the reconstruction of the country.