Bangladesh Foreign Minister Holds Fruitful Discussions with US Congressional Delegation
A US Congressional delegation of Congressman Rich McCormick of Georgia and Congressman Ed Case of Hawaii met Foreign Minister Dr. A. K. Abdul Momen, M.P. today at the State Guest House Padma, where they held fruitful discussions on Bangladesh-US partnership on various areas, including trade and economy, Rohingya response, global health, climate change and upcoming general elections of Bangladesh.
The US delegation commenced their 3-day Bangladesh visit this morning by paying floral tribute at Bangabandhu Sheikh Mujibur Rahman's mural at the Bangabandhu Memorial Museum. Both Congressmen were accompanied by their spouses at that time. Referring to the visit as moving, the Congressmen said that it was indeed a great tragedy for Bangladesh to lose such a personality and that too so early.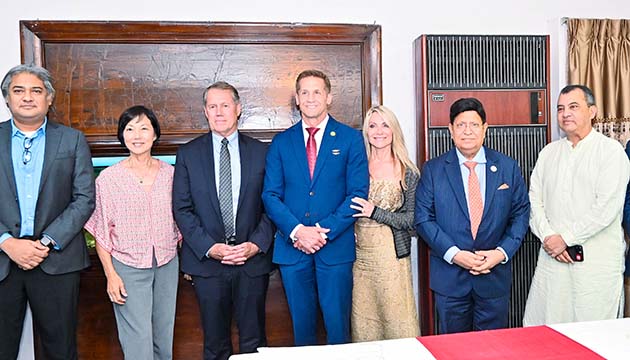 Foreign Minister Momen described Bangladesh-US relations as warm, dynamic, multifaceted, and, forward-looking and stressed that the bilateral relations should only deepen and broaden as Bangladesh's economy continues to grow rapidly under the leadership of Prime Minister Sheikh Hasina. He expressed hope that the US investment in Bangladesh will expand and diversify as Bangladesh offers potential in many areas, including ICT, pharmaceuticals, and steel. He also sought US congressional support for duty-free access to Bangladesh's textile and garments products made of US cotton. The US delegation expressed their keenness to look into the partnership in pharmaceuticals, among others.
The delegation praised Bangladesh for the generous hosting of over 1 million forcibly displaced Rohingyas. The meeting discussed the way forward in the context of the gradual decline in aid for Rohingya. The Foreign Minister appreciated the US Government for its humanitarian support for the Rohingyas and stressed the importance of working together towards achieving the ultimate goal of repatriation of the displaced Rohingyas to their homeland.
Members of Parliament Saber Hossain Chowdhury, Kazi Nabil Ahmed, and Mohammad Ali Arafat were present at the meeting and contributed to the discussions. Director General (North America) Khandker Masudul Alam and other Foreign Ministry officials were also present. Spouses of the Congressmen, Dr. Debra Miller and Ms. Audrey Case, the U.S. Ambassador to Bangladesh, Mr. Peter Haas, and other US officials accompanied the congressional delegation.