Bangladesh Foreign Minister inaugurates the Smart NID Card and voter enrolment services at Bangladesh Embassy in Abu Dhabi
Foreign Minister Dr. A. K. Abdul Momen M.P. yesterday inaugurated the Smart NID Card and voter enrolment services at Bangladesh Embassy in Abu Dhabi.
Foreign Minister commented that the facility, being provided at door-step of the expatriates, will reduce hassles for them. Different digitized services are being extended to Bangladesh expatriates like 24 hour HotLine, introduced at the Missions and the Ministries for the expatriates, he added. Foreign Ministry, he informed, has also recently launched Dutabash application providing different services.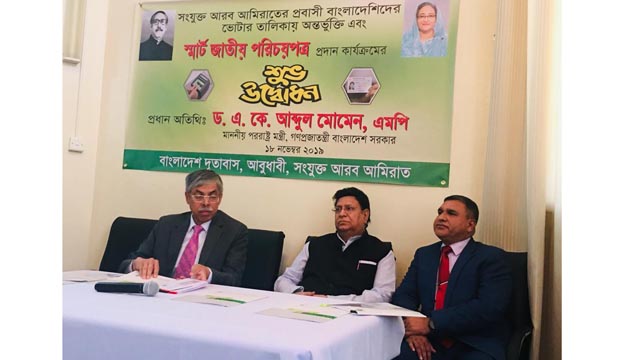 Dr. Momen encouraged the Bangladesh expatriates to send more remittance to Bangladesh as the government is providing lucrative incentives to the remitters. During his speech, he highlighted the different success stories of Bangladesh and the tremendous development that has taken place in Bangladesh. He urged the expatriate nationals to help in presenting positive image about Bangladesh from abroad.
He also urged the Bangladesh nationals for their active participation in celebrating the Centennial of the birth of the Father of the Nation, Bangabandhu Sheikh Mujibur Rahman to be held during 2020 and the 50th Anniversary of the Independence of Bangladesh.
Foreign Minister said that the provision of Smart NID card service was a long felt expectation of Bangladesh nationals in the UAE. NID Smart card of the National Election Commission is of very high quality and as such ensures access to various services. Prime Minister has taken the initiative to expand the base of services to be provided to Bangladesh expatriates, he added.
Dr. Momen distributed Smart NID Cards to five Bangladesh expatriates which were received from NEC officials. It is the first ever such distribution of Smart NID cards to expatriates from any Mission of Bangladesh abroad.
The Director General (NID), National Election Commission, officials of the Foreign Ministry and Bangladesh Embassy in Abu Dhabi were present in the programme.