Bangladesh Foreign Minister invites more investment from Germany and France, pitches for greater bilateral trade
Foreign Minister Dr. A. K. Abdul Momen, MP has invited German and French companies to invest more in Bangladesh, particularly in Special Economic Zones (SEZs) and High-tech Parks being developed by the Government, taking advantage of the country's strategic location, demographic dividend, special incentive package for foreign direct investment (FDI) and a huge domestic market. Apart from RMG sector, Foreign Minister particularly highlighted ICT and agro-based industries as potential sectors for further investment and trade.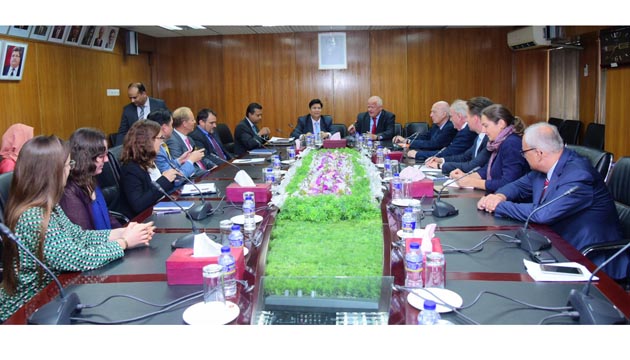 Dr. Momen said this when a cross-sectoral delegation from German Asia-Pacific Business Association (OAV), headed by Mr. Peter Clasen, Managing Partner, WILHEM G. CLASEN GmbH & Co.KG, called on him on September 12, 2019 . Mentionable, OAV, with around 500 member companies, is a renowned German Platform for exchanging knowledge and experience across different industries, and offer members, operating in or in cooperation with Asia, practical and comprehensive services. Earlier in the day, the new French Ambassador to Bangladesh Mr. Jean-Marin SCHUH paid a courtesy call on the Foreign Minister at his office.
In both the meetings, Foreign Minister Momen highlighted Bangladesh's tremendous socio-economic developments, particularly during the last one decade in light of Prime Minister Sheikh Hasina's Vision 2021 and Vision 2041 that envisages the transformation of Bangladesh into Sonar Bangla or Golden Bengal as dreamt by Father of the Nation Bangabandhu Sheikh Mujibur Rahman.
The Bangladesh Foreign Minister expressed his deep appreciation for German technology and asked for greater cooperation in knowledge, innovation and technology transfer. He also highlighted Bangladesh's E-passport project being implemented in cooperation with German company Veridos GmbH and a Joint Development Agreement in the power generation and distribution sector in Bangladesh initiated with Siemens AG. German Ambassador to Bangladesh Peter Fahrenholtz was also present in the meeting.
During the meeting with the French Ambassador, Dr. Momen expressed satisfaction over the excellent bilateral relations between the two countries and touched upon various bilateral trade and investment issues, including the Bangabandhu Satellite which was built by French company Thales Alenia Space.
Foreign Minister Momen is slated to visit France and Germany next month where he would, among others, meet his counterparts and business leaders. In France, he will attend an Economic Forum to be organized by the French Senate.