Bangladesh has made tremendous strides, World Bank is proud to be part of this journey as one of Bangladesh's first development partners- Axel van Trotsenburg.
World Bank Managing Director for Operations Axel van Trotsenburg reaffirmed the World Bank's strong support for Bangladesh as he marked the 50th anniversary of the fruitful partnership.
"Bangladesh has made tremendous strides, transforming from one of the world's poorest countries at independence in 1971 to a lower middle-income country in 2015," said van Trotsenburg. "The World Bank is proud to be part of this journey as one of Bangladesh's first development partners and we have learned a lot from each other about how development works." along with the Finance Minister and the World Bank Vice President for South Asia Martin Raiser, he joined the celebration to mark the 50 years of the partnership between Bangladesh and the World Bank.
They inaugurated a photo exhibition depicting the country's remarkable progress over the past five decades and joined a panel discussion. The events provided an opportunity to recognize the country's outstanding development achievements and to look forward to realizing the country's vision to become an upper-middle-income country by 2031.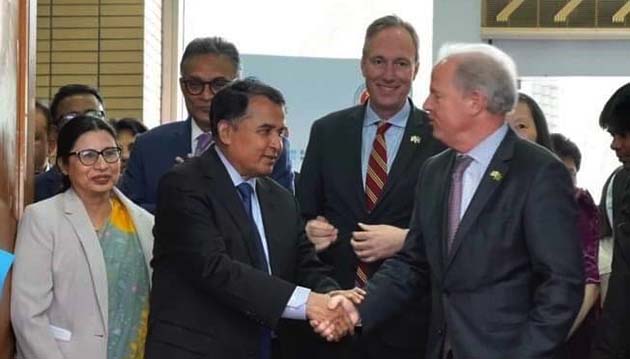 "Bangladesh, as many other countries in the world, is coping with unprecedented global shocks," said van Trotsenburg. "We are committed to supporting the country through uncertainties and challenges created by the COVID-19 pandemic, the Russian invasion of Ukraine, and increasing impacts of climate change as the country moves forward to achieve its development goals," van Trotsenburg added.
In the five decades of this remarkable journey, the World Bank remained a steadfast partner of Bangladesh. In August 1972, Bangladesh became a member of the World Bank Group. In November 1972, the first World Bank project for Bangladesh, a $50 million Emergency Recovery Credit was approved to help the war-torn nation to rebuild the transport and communication, agriculture, and industry sector with some support to the construction and power sector. At the same time, the World Bank reactivated four more projects that had been approved before the liberation war.
Since then, the World Bank has committed about $39 billion in International Development Association (IDA) financing in the form of grants, interest-free loans, and concessional credits to help the country overcome its development challenges. With about $15.3 billion in financing for 53 ongoing projects, currently Bangladesh has the most significant ongoing IDA program, and the World Bank is Bangladesh's most significant development partner.