Bangladesh High Commission in Australia observes National Mourning Day due reverence and solemnity
The 47th-anniversary martyrdom of Father of the Nation Bangabandhu Sheikh Mujibur Rahman and National Mourning Day were observed with due reverence and solemnity at the Bangladesh High Commission.
The morning program begins with lowering the national flag at half-mast. Messages from the  President, Prime Minister, Foreign Minister, and  State Minister for Foreign Affairs were read out.
The evening segment began with placing wreaths in front of the portrait of the Father of the Nation by Bangladesh High Commissioner to Australia Mohammad Sufiur Rahman, the High Commission officials, and distinguished members of the Bangladesh community.  A Special munajat was also offered for the salvation of the departed souls of Bangabandhu and his family members and others who were brutally assassinated on 15 August 1975. A documentary on Bangabandhu named 'Bangabandhu- forever in our hearts was also screened.
A discussion session was held where the speakers recollected the legacy of the Father of the Nation. Speakers from the community highly admired the sagacity and farsightedness of this great leader.  In his remarks, the High Commissioner highlighted how the Bangabandhu led the Bengalese towards independence and in a way defined Bengali nationalism. High Commissioner Rahman narrated a few instances of the uncompromising stance of this great leader in safeguarding the interests and dignity of the nation. He underscored the need to overcome the malice of backwardness, sectarianism, marginalism, and personal interests to become golden hands, worthy of Sonar Bangla, that the Prime Minister is steering the country towards.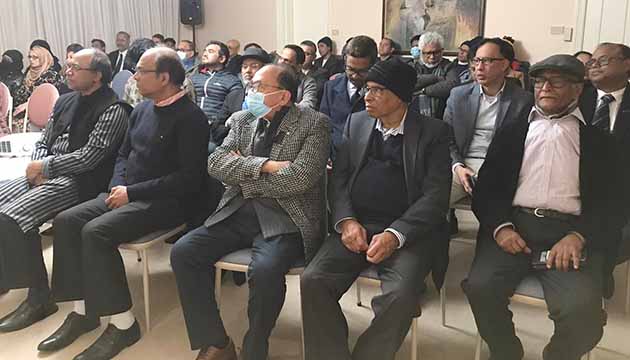 Bangladesh High Commission observed the 73rd birth anniversary of Captain Sheikh Kamal on 5 August and the 92nd Birth Anniversary of Bangamata Begum Fazilatunnesa Mujib on 8 August with due respect where video clips on the contribution of Bangamata and Sheikh Kamal were screened. Flower wreaths were placed by the High Commissioner and a special prayer was offered.