Bangladesh High Commission observes historic 7th March in Islamabad
Bangladesh High Commission in Islamabad today observed the historic day of 7thMarch,recalling the epoch-making speech of the Father of the Nation Bangabandhu Sheikh Mujibur Rahman that led the nation towards independence of the country.
In the morning, a discussion meeting was held at the chancery premises with High Commissioner of Bangladesh to PakistanTarik Ahsan in the chair. The programme began with the reading out of messages of President and Prime Minister issued on the occasion.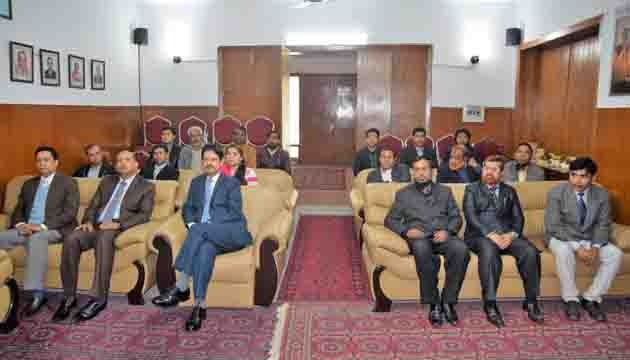 During the discussion session, speakers dwelt on the significance of the 7th March speech. High Commissioner Tarik Ahsan paid homage to the memory of the Father of the Nation Bangabandhu Sheikh Mujibur Rahman. He said that the historic speech of 7th March ushered in a new chapter of liberation struggle. He remarked that the key theme of the speech was that, as the rulers obstructed the peaceful transfer of power to the elected representatives of the people, Bengalis would be left with no option other than to join the War of Liberation. The High Commissioner added that the political significance of the speech as well as its quality of delivery has earned it the recognition of best speeches of the world. He indicated that cultivation of significance of the speech will keep the spirit of War of Liberation alive from generation to generation in Bangladesh.
Following the discussion,a session of recitation of poems based on Bangabandhu's 7th March speech was held.
Later, a video documentary on the Bangabandhu's historic 7th March speech was screened.
Expatriate Bangladeshis andofficials of the Mission joined the programme.