Bangladesh High Commission to the Maldives organizes a voluntary blood donation programme.
With the collaboration of Maldives Red Crescent and Maldivian Blood Service, a voluntary blood donation programme was organized on 07 August 2021 at the Bangladesh High Commission premises. A significant number of expatriate Bangladeshis and Maldivian nationals donated blood. The Bangladesh High Commission officials and their family members also volunteered to donate blood. This noble initiative of the Bangladesh High Commission in the Maldives was appreciated by the local people and expatriate Bangladeshis. Especially during the crisis time of the COVID-19 Pandemic, the blood donation programme remains a good example in the service of humanity. At the same time, everyone expressed their view that through this event on the occasion of Mujib's Birth centenary, a special honour has been shown to the Father of the Nation of Bangladesh.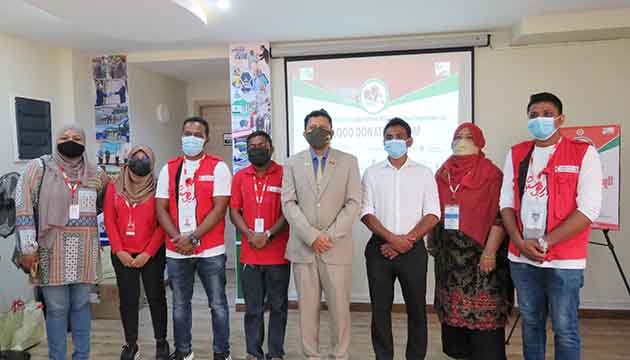 The High Commissioner of Bangladesh Rear Admiral Mohammad Nazmul Hassan officially inaugurated the Blood Donation Programme. President of the Maldives Red Crescent Mr Abdul Haleem Abdul Latheef, Secretary-General Fathimath Himya and the officials of the Bangladesh High Commission were present at the programme.