Bangladesh Home Minister exchanged views with the expatriate Bangladeshis in South Korea
At the initiative of the Embassy of Bangladesh in Seoul, H.E. Mr. Asaduzzaman Khan, MP, Honorable Home Minister of the Government of Bangladesh, exchanged views with the expatriate Bangladeshis in South Korea at the evening of 18th August 2019. He attended this program while visiting South Korea on official program.
During this three-hour long event, the expatriate Bangladeshis spontaneously discussed issues related to their passports and other matters. The Hon'ble Home Minister listened to their difficulties thoroughly. He responded to all their queries related to applying for a new passport, renewal of passport, e-passport, dual citizenship, police clearance, establishment of specialized hospital for the expatriate Bangladeshis, pending cases in different courts etc. Director General of the Department of Passport Major General Md Sohail Hossain Khan, PSC and other senior officials of the Ministry of Home Affairs, Dhaka were present at that time.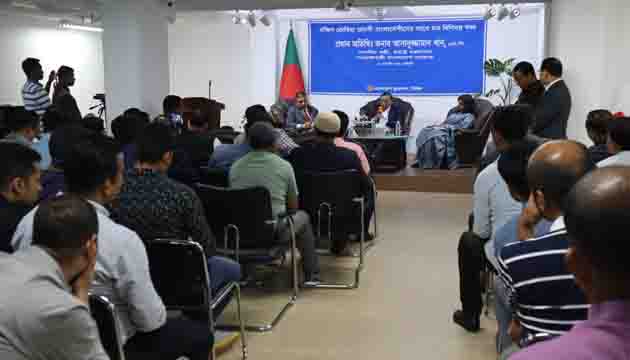 During the program, the Hon'ble Home Minister said that for the third consecutive terms, the Government has been formed led by Hon'ble Prime Minister Sheikh Hasina and she is placing more emphasis in establishing good governance. At the same time, Bangladesh is marching ahead in digitizing the country and the Home Ministry has already taken necessary initiatives to introduce e-passport in due course. The Hon'ble Prime Minister is also considering offering more facilities to the expatriates who regularly send remittances to Bangladesh through legal channels, he added. He encouraged the expatriates there to invest more in Bangladesh. He also stated that apart from ensuring security for the public, Home Ministry is working towards bringing the services to the doorsteps of the public. He also elaborated on the different welfare activities undertaken and carried out by the Home Ministry. After the exchange of views, the members of different organizations in Seoul welcomed him with floral bouquets.
Before the program, the Hon'ble Minister visited the Consular Section of the Embassy and enquired about its activities. He also expressed satisfaction at the standard of consular services provided to the service seekers. Hon'ble Minister also visited the "Bangabandhu Memorial Library" at the Embassy during that time.
In conclusion, the guests were entertained with traditional Bangladeshi cuisine.