Bangladesh is a role model for the world- Bangladesh Ambassador to Denmark speaks on Victory Day prograame in Copenhagen
Bangladesh is now widely acclaimed as a role model for the developing world for its impressive socio-economic growth braving myriad of challenges thanks to its visionary leadership and resilient people said Bangladesh Ambassador to Denmark Muhammad AMuhith during a discussion session organized today at the Chancery auditorium to mark the 47th anniversary of the Victory Day of Bangladesh.
The discussion programme was attended by a good number of Non-resident Bangladesh citizens including political figures, artistes, professionals working with various Danish government and non-government organizations and UN bodies along with their family members with a significant number of women and children. The programme started with the recitation of holy Quran followed by placing of flower wreath on the portrait of the Father of the Nation Bangabandhu Sheikh Mujibur Rahman, reading out of messages from the Hon'ble President, Hon'ble Prime Minister, Hon`ble Foreign Minister and Hon'ble State Minister for Foreign Affairs released on the Victory Day.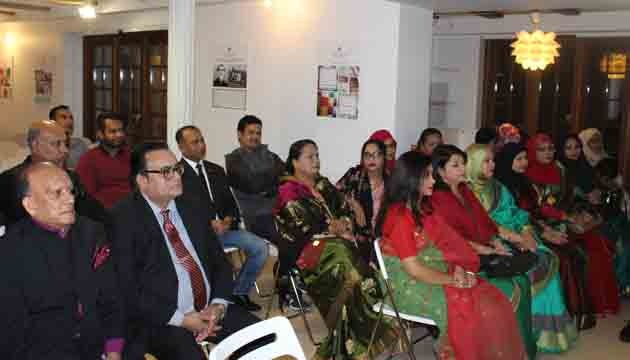 Community members took part in the lively discussion segment focusing on different aspects of Victory Day and urged everyone to elect Prime Minister Sheikh Hasina again in the next general elections to continue with the progress of Bangladesh. In his speech, the Ambassador paid deep respect and homage to the memories of the Father of the National Bangabandhu Sheikh Mujibur Rahman, freedom fighters, martyrs and the women who lost their lives and dignities during the liberation war. He viewed that the Victory Day, earned through sacrifices made by the millions under the supreme leadership of Bangbandhu, is an unabated source of inspiration for the nation that is currently transforming itself into a knowledge-based digital middle-income country by realizing Prime Minister Sheikh Hasina's Vision 2021 in order to fulfil Bangabandhu's dream of Sonar Bangla. He expressed his deep optimism that if we all work together and do our bits, Bangladesh would be able to reach the benchmark of the middle-income country by 2021 when the country celebrates its 50th anniversary. Finally, he called upon the expatriate Bangladesh community to join their hands and work collectively for the progress, prosperity and welfare of Bangladesh.
A documentary on the contribution of women during Bangladesh liberation was 'Amara tomaderVulbona' was screened. Earlier, the day-long programme began in the morning with hoisting of national flag by the Ambassador in presence of the Mission officials and staff members. The programme was rounded off with the array of Bangladeshi food hosted by the Embassy.