Bangladesh keen to sign FTA with South American trade bloc MERCOSUR to promote export to South America.
Minister of State for Foreign Affairs Md. Shahriar Alam, MP expressed keen interest to sign Free Trade Agreement (FTA) with South American trade bloc MERCOSUR at an early date to tap the under-exploited South American market. Bangladesh has already submitted "Letter of Intent" to that effect to secure greater access for Bangladeshi products to a huge market of 300 million consumers across Argentina, Brazil, Paraguay and Uruguay. State Minister conveyed this interest when new non-resident Argentine Ambassador Daniel Chuburu (based in New Delhi) called on him earlier today. Argentine Ambassador, whose country is the current President of this trade bloc, promised full cooperation in this regard.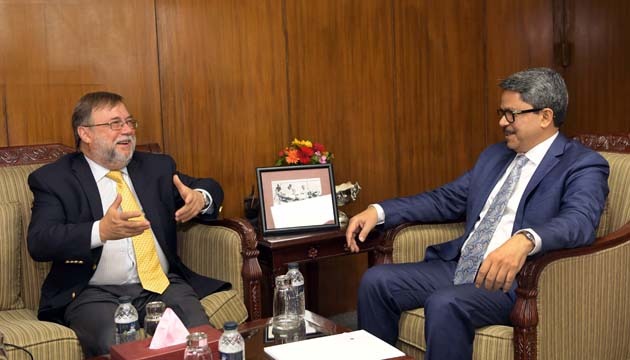 The Argentine Ambassador emphasized the need to promote the overall bilateral trade between the two countries. In this context, he proposed to hold a regional workshop/seminar on agriculture and agro-business in Dhaka sometime soon to promote better cooperation and share Argentine skills and expertise in agricultural sector. Ambassador opined that such cooperation could go a long way in terms of ensuring food security.
State Minister Alam gratefully recalled Argentine Writer and Critic Victoria Ocampo's commendable role in support of Bangladesh's Historic War of Liberation that led and inspired the intelligentsia in Argentina and beyond to protest against the atrocities inflicted on Bangalees by Pakistan military and their local collaborators. The Bangladesh State Minister also sought Argentina's support for Bangladesh's candidature for the post of Deputy Director General of IOM. Argentine Ambassador promised to give it due consideration.
Among others, cooperation in culture and sports also figured in the discussion. Bangladesh State Minister looked forward to receiving Argentine football team in Dhaka in 2021 to play a match marking the centennial Birth Anniversary of Father of the Nation Bangabandhu Sheikh Mujibur Rahman.
The Argentine Ambassador presented his credentials to the Hon'ble President at Bangabhaban on 10 April 2019.