Bangladesh-Malaysia 3rd bilateral consultations held in Dhaka
The Third Foreign Office Consultations (FOC) between Bangladesh & Malaysia was held at the Ministry of Foreign Affairs in Dhaka today. Foreign Secretary (Senior Secretary) Ambassador Masud Bin Momen led the Bangladesh delegation, while a 05-members Malaysian delegation was led by Mr. Dato Norman Muhamad, Deputy Secretary General of the Ministry of Foreign Affairs of Malaysia.
The entire gamut of the bilateral relations, including cooperation in the areas of trade & commerce, investment, energy, halal trade, tourism & culture, education, health, defence & security, agriculture, fisheries & livestock, ICT  & telecommunication, shipping etc. came under discussion. They also exchanged views on issues of mutual interests in the regional & international arena. Both sides expressed optimism that the FOC, held after a hiatus of more than five years, would contribute significantly toward infusing further dynamism into the existing bilateral relations.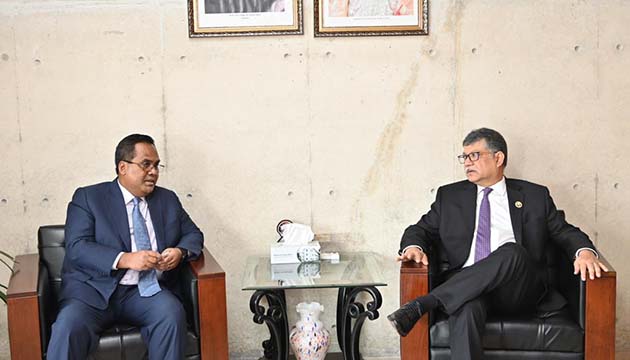 Both sides expressed satisfaction at the current level of engagements and stressed on raising it further through adequate follow up on the existing bilateral instruments and mechanism.
The FOC agreed to explore the possibility of concluding a bilateral FTA in order to add further substance to the steadily increasing bilateral trade and economic relations between the two regional countries. Describing Malaysia as an important investor country in Bangladesh, Foreign Secretary encouraged for a greater flow of FDI from Malaysia, particularly in the Economic Zones of Bangladesh, for mutual benefit.
The two sides stressed the importance of maintaining the momentum through regular exchange of high-level visits and agreed to materialize the proposed visit of the Prime Minister of Malaysia to Bangladesh at the earliest convenience.
Both sides reiterated their commitment for working in closer collaboration in order to effect an orderly, safe and ethical migration of Bangladeshi expatriate workers by reducing the migration costs, and by ensuring a conducive atmosphere for the workers in Malaysia. The Malaysian side highly lauded the valuable contribution of the Bangladeshi workers to maintaining the vitality of the Malaysian economy.
Foreign Secretary Masud Bin Momen requested Malaysia to play a more proactive role bilaterally and within the ASEAN framework for an expeditious repatriation of the Rohingya people from Bangladesh to their homeland in Myanmar. He also sought an expeditious inclusion of Bangladesh as a Sectoral Dialogue Partner of ASEAN.       Both sides expressed their commitment to their increased engagement across all areas to further strengthen cooperation. The discussions were productive and substantial. The next FOC will be held in Malaysia on a mutually convenient date.