Bangladesh-Malaysia Chamber of Commerce and Industry celebrates Malaysia's 62nd Independence Day
Bangladesh-Malaysia Chamber of Commerce and Industry (BMCCI) celebrated Malaysia's 62nd Independence Day on Saturday.It also announced to hold the 6th 'Showcase Malaysia' here on December 3-5.
Acting High Commissioner of Malaysia to Bangladesh Amir Farid Abu Hasan, BMCCI President Syed Moazzam Hossain, BMCCI members, major business houses, investors, government bodies of Malaysia were present.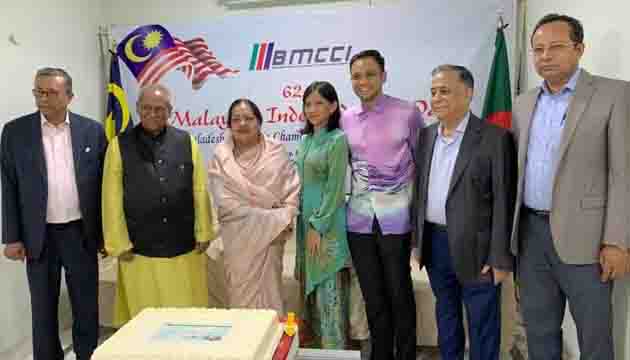 Abu Hasan described the colourful story of Malaysia's successful transformation from a newly independent third world country to one of the most successful countries in transforming the socioeconomic landscape today.
"We see more Malaysian companies taking interest to invest in Bangladesh. Malaysian companies that are already established in Bangladesh are expanding their foothold," he said adding that Malaysia's total trade with Bangladesh was $2.37 billion last year, a 35.6 percent rise from the year before.
Moazzam Hossain said the BMCCI successfully organised the 4th Showcase Bangladesh in Malaysia in July this year.
He urged Malaysian Investors — both new and potential and Bangladeshi investors to participate in the event to be held in December as previous to make the event successful.
BMCCI former presidents Nasir A Choudhury, Syed Nurul Islam, Ar Md Alamgir Jalil, Secretary General Shabbir Ahmed Khan, joint secretary general MA Bakar, Treasurer Engr Badrul Hassan, Directors of BMCCI, officials from High Commission of Malaysia and BMCCI members were present.