Bangladesh Prime Minister Sheikh Hasina has received the prestigious 'Champion of the Skills Development for Youths' Award.
Prime Minister Sheikh Hasina has received the prestigious 'Champion of the Skills Development for Youths' Award in recognition of her outstanding contributions to skill development of the youth.
Executive Director of the United Nations International Children's Emergency Fund (Unicef) Henrietta Fore handed over the Award to her at a ceremony titled 'An Evening with Prime Minister Sheikh Hasina' held at the Unicief House in New York on Thursday.
Receiving the award, the Prime Minister dedicated it to the people and children of Bangladesh and the entire world.
This honour is not for me alone…it belongs to Bangladesh because the people of Bangladesh have elected me through votes. That's why I've got an opportunity to serve them … I earned this honour for this scope," she said.
Sheikh Hasina said education is the backbone of a nation and no nation can raise their heads high without education. "Keeping this in mind the government has brought education of various medium in a single mechanism transforming those in to an inclusive education system."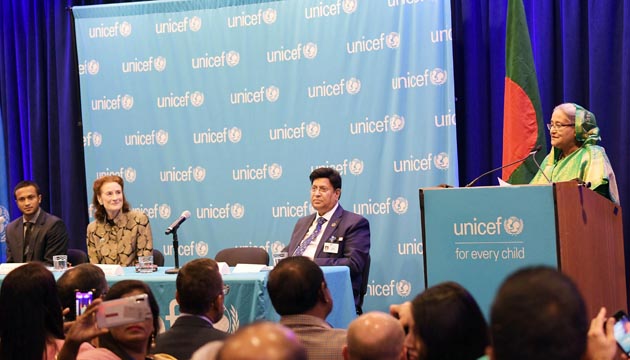 Hasina said millions of young people with their skills are constantly making a difference in our lives and livelihoods. "This recognition also manifests our steady strides in transforming Bangladesh into a responsible and knowledge-based society and economy," she said.
After the emergence of Bangladesh, she said Father of the Nation Bangabandhu Sheikh Mujibur Rahman realised that it is not possible to make progress without the using the potentials of the youth.
"We're committed to building a knowledgeable young generation who can face challenges and help build Golden Bengal as envisioned by the Father of the Nation," she said.
Alongside this, the Prime Minister said, various programmes were implemented to develop the youth suiting to proper education and training for their self-employment.
She mentioned that the government has focused on skill development and taken several initiatives to equip youths with proper knowledge and skills. "We're also encouraging them for self-employment."
Hasina extended her sincere thanks to Unicef for the continuation of its support to Bangladesh in this regard.
The Prime Minister urged the expatriate Bangladeshis to work for the development of schools in their own locality and stay careful so that no single child remains out of the school.
Referring to her government's steps for providing stipends, distributing free textbooks and introduction of school feeding activities, she said such initiatives played a vital role in ensuring cent percent enrolment of children.
Hasina said Bangladesh achieved a tremendous success in increasing literacy rate and more has to be done to ensure hundred percent literacy in the country.
She mentioned that the recognition of Unicef would help a lot in advancing the activities of her government towards that end.
Hasina expressed with gratitude that Unicef has been providing significant assistance and support to increase literacy rate as well as for the skill development of the youth.
In her speech, Unicef executive director Henrietta Fore highly praised Bangladesh's tremendous development in different sectors under the dynamic leadership of Prime Minister Sheikh Hasina.
She appreciated the Bangladesh government for framing a time-befitting National Skill Development Policy and implementing it.
Referring to the influx of 1.1 million forcibly displaced Rohingyas into Bangladesh, the Unicef executive director also hailed the government for sheltering such a huge population.
While speaking at the programme, Unicef Bangladesh Goodwill Ambassador and cricket icon Shakib Al Hasan said since its independence in 1971, Bangladesh has placed children at the centre of its policies as well as made great strides in reducing child mortality rate, increasing access to education and ensuring gender parity in schools.
"It's truly wonderful that Bangladesh as represented by her excellency Prime Minister Sheikh Hasina was recognised by Unicef for its (country) very conscious pursuance in skill development for young people," he added.
The cricket superstar expressed his confidence that very good policies and programmes of the government will contribute to further achievements in economic growth, equity and sustainable development goals.
Shakib extended heartfelt congratulations to Prime Minister Sheikh Hasina as leader of the nation for the wonderful recognition.Foreign Minister Dr AK Abdul Momen also spoke on the occasion.