Bangladesh receives "Best Designed Pavilion" Award at the International Arts and Crafts (INAC) Expo in Nigeria
Bangladesh High Commission in Abuja, Nigeria in collaboration with the Ministry of Cultural Affairs, Government of Bangladesh actively participated at the 12th International Arts and Crafts (INAC) Expo organized by the National Council for Arts and Culture (NCAC) of Nigeria (20-24 November 2019). Held at the FCT Exhibition Pavilion, Abuja, over 25 foreign Missions, 36 states of Nigeria and a large number of local and international organizations participated at the mega event which attracted thousands of visitors each day.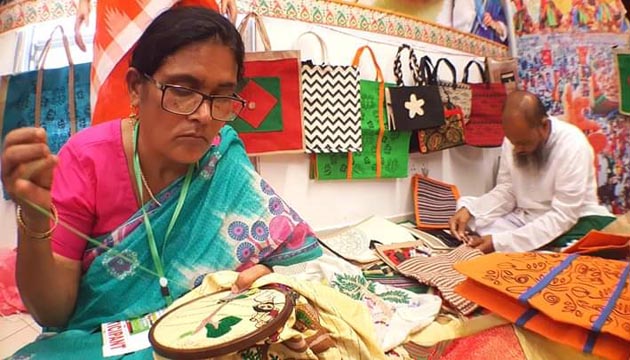 Participated for the second time at the colourful international event, Bangladesh Pavilion was ranked "Best Designed Pavilion" at the 12th Expo while jointly sharing the recognition with China and India. High Commissioner Md. Shameem Ahsan received the Award at the closing ceremony.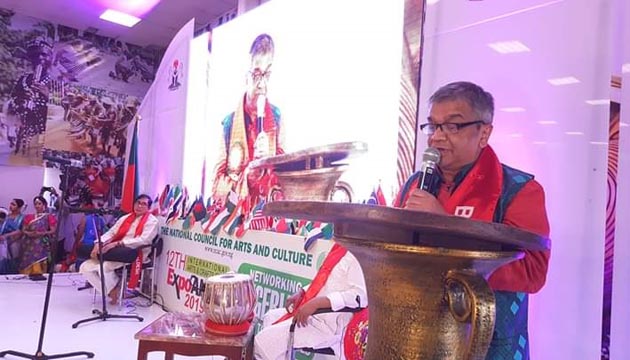 Bangladesh Pavilion was colourfully decorated with traditional articles, handicrafts and artefacts. It also carried images of the history, culture, heritage and development journey of Bangladesh. Jute-made items including bags were in large numbers to brand it as an environment-friendly product. One small unit of a Jamdani weaving machine (JamdaniTant) run by a professional weaver (Tanti) was an added attraction at the Pavilion.
The High Commission also organized a special event entitled Bangladesh Day on Saturday, 23 November 2019 at the large auditorium on the sideline of the Expo to showcase Bangladesh's rich culture and traditions. While paying rich tribute to the Father of the Nation Bangabandhu Sheikh Mujibur Rahman, Mr. Md. Shameem Ahsan, High Commissioner of Bangladesh to Nigeria in his welcome remarks highlighted on the tremendous achievements Bangladesh made under the dynamic leadership of the Hon'ble Prime Minister Sheikh Hasina.
Spectacular performance by the visiting cultural troupe(vocal, dance and flute) sent by the Ministry of Cultural Affairs held 300 guests spellbound which included Nigerian dignitaries, Ambassadors/High Commissioners, diplomats, members of civil society, representatives of various social and cultural organizations and expatriate Bangladesh nationals, among others. Anchored by Dahlia Ahmed, flute artist Gazi Abdul Hakim, vocal artists vizShalma Akbar, Yeasmeen Ali, ShafiqTuhin, KaziMuyeedShahriar Shiraz Joy, Manuel Soren, Avro Nokrek performed music while dance artists vizSangeetaChowdhury, Afrin Sultana Nipu, RahinaZaman, Mohammad Rasel Ahmed and ShammiYesminJhinuk featured patriotic, Tagore and Nazrul songs. Artists were accompanied by DebooChowdhury on tabla, KaziZobayerKaisar on key board, AvijitChakrabarty on guitar & Md. Nazrul Islam on dhol. Their stellar performance earned huge applause, and the cheering crowd greeted them spontaneously. The foreign guests were served with Bangladeshi traditional cuisine and various cakes which were highly appreciated.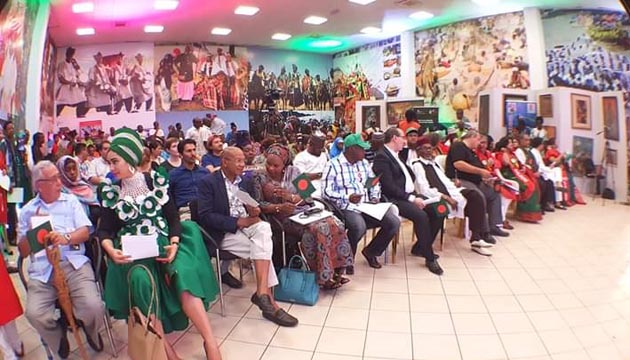 A 9-member delegation led by Mr. Md. NaoshadHossain, Deputy Secretary, Ministry of Cultural Affairs participated at the 12th International Arts and Crafts (INAC) Expo which also included Artists of Bangladesh Shilphakala Academy and officials from Bangladesh Folk Art and Foundation, Sonargaon, Narayangonj, Bangladesh.