Bangladesh University of Engineering and Technology (BUET) and Instituto Superior Técnico (LIST) of Portugal sign a cooperation agreement.
Bangladesh University of Engineering and Technology (BUET) and Instituto Superior Técnico (IST) of Portugal virtually signed a cooperation agreement to establish academic links between the two institutions today on July 4, 2022. At a simple ceremony held simultaneously at the two institutions, Vice-Chancellor of BUET Prof. Dr. Satya Prasad Majumder in Dhaka and the President of IST Prof. Rogério Colaço in Lisbon signed the agreement on behalf of their respective institutions. On the Lisbon side of the ceremony, Bangladesh Ambassador to Portugal Mr. Tarik Ahsan, Vice-President & Director for Research & International Relations Prof. Fátima Montemor, and First Secretary of Bangladesh Embassy Mr. Abdullah Al Razi were also present.  On the Dhaka side, Pro-Vice-Chancellor Ms. Fátima Montemor, Deans of different Faculties of BUET, Director for Research and Innovation Centre for Science and Engineering (RISE) Prof. Dr. Muhammad Anisuzzaman Talukder and Registrar Prof. Dr. Md. Forkan Uddin of BUET and Assistant Secretary of the Ministry of Foreign Affairs of Bangladesh Mr. Samapan Barua attended.
This cooperation agreement will focus on the exchange of undergraduate and postgraduate students and faculty members and joint supervision of Master and Doctoral theses. Besides, under this agreement, there will be an opportunity for possible cooperation in the curricular development and establishment of undergraduate and postgraduate educational programs. Promotion of joint research activities, exchanging scientific materials, publications and information and Organization of joint research meetings and conferences are among the others targeted areas of cooperation under the signed agreement.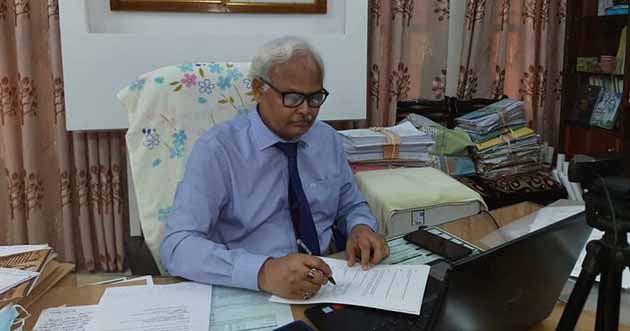 Prof. Dr. Satya Prasad Majumder, Vice-Chancellor of BUET expressed his satisfaction at the signing of this cooperation agreement with a leading engineering institution in Portugal. Recalling the historical linkage between the people of two countries, he hoped that this agreement would provide opportunity for working together for mutual benefit of the two countries. He offered all possible cooperation from BUET for the successful implementation of this agreement.
In his concluding remarks, the President of Instituto Superior Prof. Rogério Colaço expressed his pleasure at the successful completion of the signing ceremony. Mentioning this as only a beginning, he said that his institution is ready to explore areas of cooperation under this framework.
Ambassador Tarik Ahsan in his remarks congratulated both BUET and IST, the premier engineering institutions of their respective countries on this momentous decision to tie up for a partnership. He expressed his happiness for playing a part in facilitating the conclusion of this agreement and assured us that the Embassy would be ready to extend cooperation in the future also in the implementation of the agreement. He also hoped that the interaction and collaboration between BUET and IST would significantly contribute to the enrichment of knowledge and advancement of technology in Bangladesh and Portugal.