Bangladesh – Vietnam holds Second Political Consultations in Dhaka
The Second Foreign Office Consultations (FOC) between Bangladesh & Viet Nam was held at the Ministry of Foreign Affairs in Dhaka on Sunday. Foreign Secretary (Senior Secretary) Ambassador Masud Bin Momen(Senior Secretary) led the Bangladesh delegation, while a 09-member Vietnamese delegation was led by the Deputy Foreign Minister of Viet Nam Mr. Do Hung Viet.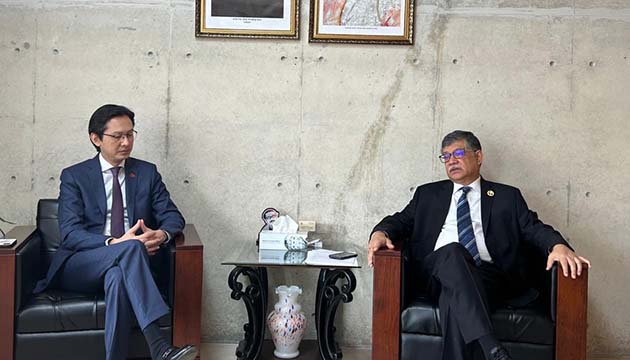 The entire gamut of the bilateral relations, including cooperation in the areas of trade & commerce, investment, energy, halal trade, tourism & culture, education, health, defence & security, agriculture, fisheries & livestock, ICT  & telecommunication, direct air link etc. came under discussion. They also exchanged views on issues of mutual interests in the regional & international arena. Both the sides expressed optimism that the FOC, held after a hiatus of almost six years, would contribute significantly to adding further impetus and momentum to the existing bilateral engagements. Both sides expressed satisfaction at the current level of bilateral cooperation and stressed on further deepening the synergies through prudent utilization of the available complementarities.
The FOC agreed to explore possibilities of concluding a bilateral FTA in order to add further substance to the steadily increasing bilateral trade and economic relations between the two regional countries, particularly in context of the LDC graduation of Bangladesh. Highlighting the lucrative incentives and facilities offered by Bangladesh for the Foreign Direct Investment, Foreign Secretary encouraged the Vietnamese business community and entrepreneurs to avail the opportunities, particularly in the Economic Zones of Bangladesh, for mutual benefit.
The two sides stressed the importance of maintaining the momentum through regular exchange of high level visits and agreed to organize the Joint Trade Commission Meeting in Dhaka this year. Bangladesh also proposed formation of the Joint Commission at the Foreign Ministers' level for comprehensive cooperation.
Both sides stressed the importance of direct air links for facilitating trade, commerce and investment and for accelerating tourism and people-to-people contacts. Both Dhaka and Hanoi agreed to explore the possibilities for initiating direct flights at the earliest.
Foreign Secretary Masud Bin Momen requested Viet Nam to play a more pro-active role bilaterally and within the ASEAN framework for an expeditious repatriation of the Rohingya people from Bangladesh to their homeland in Myanmar. He also sought an expeditious inclusion of Bangladesh as a Sectoral Dialogue Partner of ASEAN.
Both Head of delegations recalled with gratitude the historic event of establishment of Diplomatic ties between two countries in 1973. As this year marks the Golden Jubilee of Diplomatic ties between the two friendly countries, the meeting appreciates the joint celebration of the watershed event with commemorative programmes in Dhaka and Hanoi.
Both sides welcomed regular dialogue and meetings of bilateral mechanisms. The head of delegations hoped that this Second FOC would help inject further vigour and momentum into the existing excellent bilateral relations for making it more collaborative and constructive and fruitful. The next FOC will be held in Viet Nam on a mutually convenient date.