Bangladesh will be the 20th largest economy in the world by 2026 – Bangladesh Prime Minister.
Bangladesh will be the 20th largest economy in the world by 2026-Prime Minister Sheikh Hasina reiterated this while inaugurating Bangladesh Business Summit-2023 at Bangladesh International Conference Center yesterday. Honorable Minister of Industry, Commerce and Employment of the Royal Government of Bhutan, H.E Mr. Karma Dorji, Honorable Minister of Commerce of the Kingdom of Saudi Arabia, H.E Dr. Majid bin Abdullah Al Kassabi and Deputy Director General of World Trade Organization (WTO) H. E. Ambassador Xiangchen Zhang were also present as a special guest in the event.
The Prime Minister emphasized the importance of robust infrastructure, a vibrant private sector, and a productive rural economy as the backbone of a strong and resilient economy. She highlighted Bangladesh as a lucrative investment destination, particularly in infrastructure, logistics, and manufacturing, and underscored the government's role in facilitating business and attracting foreign direct investment. The DDG WTO praised Bangladesh's digitally driven youth and geo-strategic position as special advantages for the country. The Commerce Minister of Bhutan pledged to champion Bangladesh in its trillion-dollar journey, while the Saudi Minister assured that the strategic partnership between the two countries would be strengthened in the future. The Foreign Minister acknowledged the government's efforts to improve the business environment in Bangladesh and mentioned that the Ministry of Foreign Affairs is pursuing economic diplomacy, public diplomacy, and peace and stability under the Prime Minister's vision.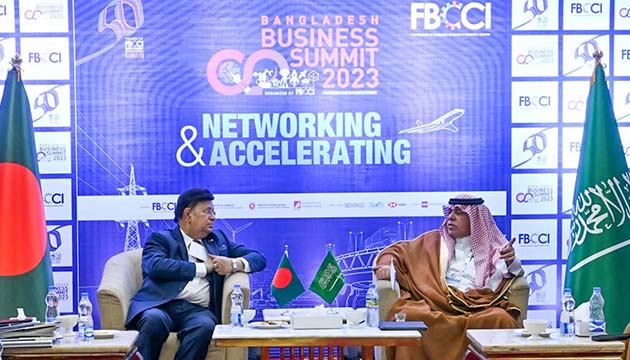 The Saudi Commerce Minister met with the Foreign Minister to discuss future trade and investment opportunities and ways to engage the Bangladesh diaspora in the Kingdom.
The three-day business summit aims to showcase Bangladesh's economic strength and potential to global business enterprises, with more than 200 foreign delegates participating. The Ministry of Foreign Affairs is partnering with the Federation of Bangladesh Chambers of Commerce and Industry for the event.