BFQ celebrated "Partners of Bangladesh" gala night
Report by -Noor Mohammed (Noor) , Bureau Chief (Qatar).
In an elegant environment, Bangladesh Forum Qatar [BFQ] celebrated its first founding anniversary at the ballroom of Crowne Plaza Hotel Doha recently. Bangladesh Ambassador to Qatar H.E. Ashud Ahmed was present in the event titled "Partners of Bangladesh" as the chief guest. The main objective of this event was to honor the commercial enterprises that have been playing an important role in improving the overall development of Bangladesh and Bangladeshis living in Qatar. Looking forward to a greater potential, this is the first time an organization of Bangladeshi expatriates in the state of Qatar came up with such an ingenious initiative. Qatar's top businessmen, senior officials of the commercial firm, chief executives, Scholars, Bangladeshi mainstream businessmen in Qatar were present.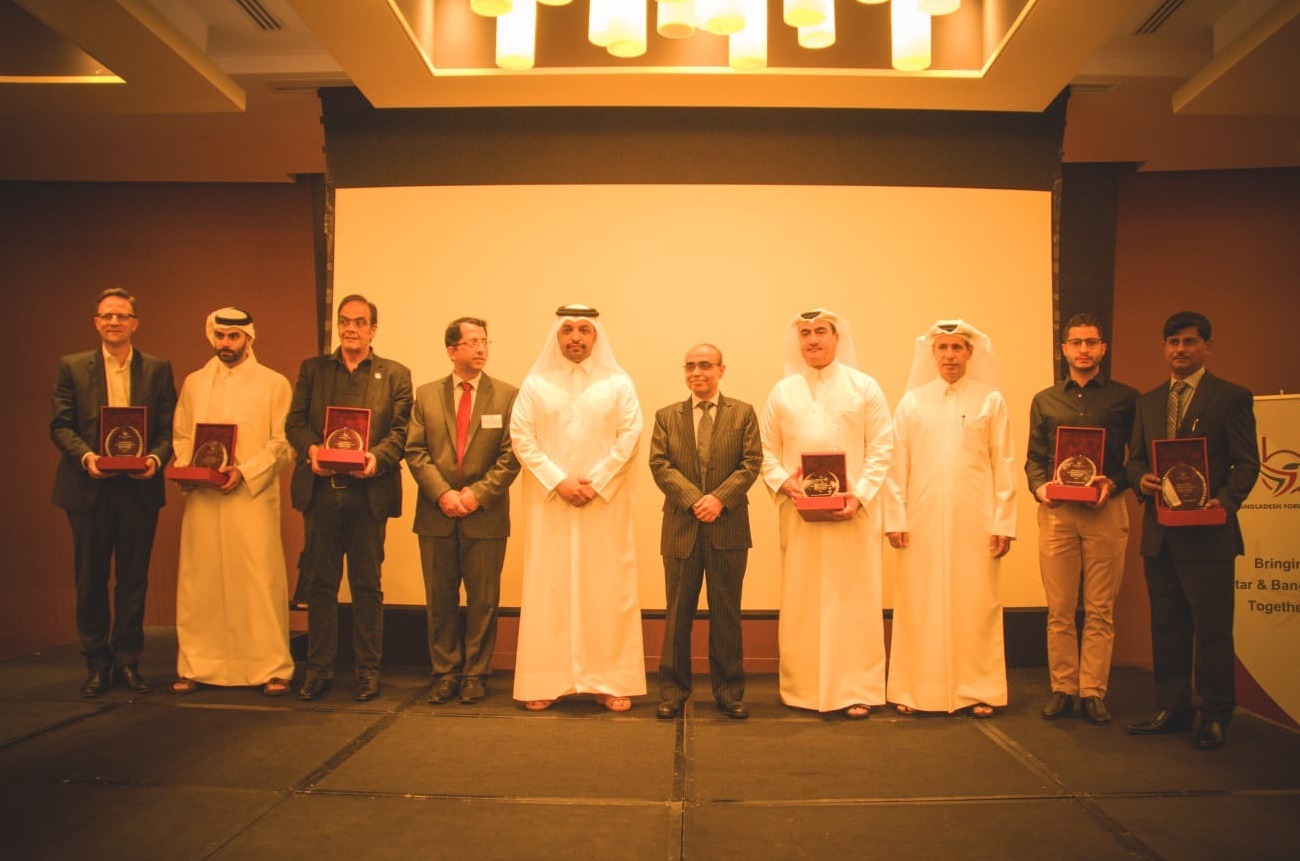 BFQ member Professor Dr. Kazi and engineer Tasmeya Priyanka jointly anchored the program. A total of seven renowned establishments and entrepreneur were honored in different categories. In its first criteria, BFQ awarded the Qatari establishment that employed more than one thousand Bangladeshi workers in their respective establishment. The award winners are Al Jaber Group, QDVC, QD-SBG Construction, Muntajat, and Power Holding respectively. Second criteria award went to Arabian Exchanges and Qatar Chemical and Petrochemical Marketing and Distribution Company (Muntajat) who are playing an important role in the economic development of Bangladesh through Import and Export. Jalal Ahmed, Chief Executive Officer of Golden Marble Company received the honor as the successful entrepreneur in its third category. Ambassador Ashud Ahmed and BFQ President Iftekhar Ahmed handed over the award to the award winners.
At the beginning of the ceremony, BFQ founder member and prominent banker Shaheed Ahmed presented a detailed PowerPoint presentation about Bangladesh and its diversified opportunism for Foreign Direct Investment (FDI) and 100% percent ownership facilities levied by current government towards foreign investors. Managing Director of Richmond Consultant and member of BFQ Israt Ara Yunus announced first ever Bangladeshi trade and investment fair called "Made in Bangladesh" be held in the month of December 2019 incorporation with Bangladesh Embassy in Doha. A large number of renowned Bangladeshi companies and entrepreneurs are expected to take part in the exhibition with opportunities to showcase their products and services which will help boost the bilateral trade between the two countries, she added.
In his speech, Ambassador thanked BFQ for all creative activities and working for the development of relations between two brotherly countries of Qatar and Bangladesh at different levels. Besides, Ambassador congratulated all the members of BFQ on the occasion of celebrating its first anniversary.
Ambassador also conveyed sincere congratulations to the winners "Partners of Bangladesh" award.