California wildfire : Death toll rises to 48, hundreds still missing
 The death toll from the most destructive fire in California's history has risen to 48 after six more bodies were recovered from homes in Paradise, while relatives and friends of the missing are desperate for information.
The total count of the victims of the blaze, dubbed Camp Fire, in the state amounted to 50, as two bodies were recovered hundreds of kilometres to the south in the scorching path of another fire, named Woolsey, near Malibu.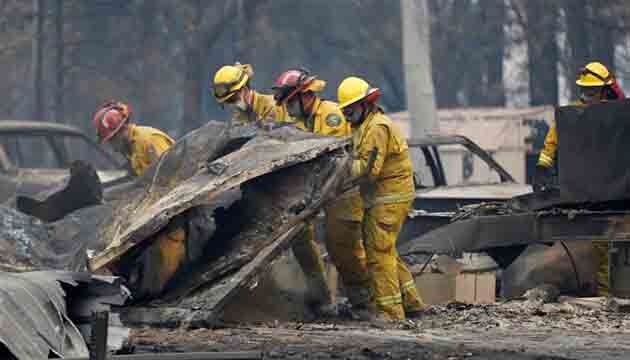 "One of the hardest parts of this particular job is to provide you with an update on the recovery of human remains," Butte County Sheriff Kory Honea told reporters on Tuesday.
Honea said that 100 National Guard troops would join the efforts of forensic teams and sniffer dogs, as they continue the search through incinerated town of Paradise.
We're finding remains in various states," he told reporters. "People have been badly burned. Some of them, I assume, have been consumed."
He has reported that 228 were still missing but they are hoping to produce a list of missing persons soon and ask the public's help to determine if it accurate.
The winds are expected to drop in the next 24 hours while "more favourable conditions" and "potential rain" in the middle of next week, have been forecasted by the meteorologist in the "Camp Fire" impacted area.
"The air quality will be poor" especially in the mornings, warned Aviva Braun, a National Weather Service meteorologist, but it will get better in the afternoons.
The blaze has now been 35 percent contained, according to officials after it destroyed more than 54,000 hectares, incinerating more than 8,800 structures, 7,600 of them homes.
Around 52,000 people were evacuated from the area and more than 1,000 are at evacuees' shelters.
Steve Kaufmann, spokesperson for CalFire said that 5,615 personnel continued to fight the blaze on Tuesday.
The latest weather forecast for California said that the conditions were improving, promising strong winds that would progressively weaken on Wednesday and Thursday, but some mountains regions would remain under critical fire risk.
"The last 12 months in California have been very dry, with rainfall well below average," Al Jazeera's weather presenter Steff Gaulter said.
"The vegetation is like tinder wood, ignited by the smallest spark. The forecast isn't promising, with no rain on the horizon and the air expected to stay very dry, but at least the winds are finally relenting. On Wednesday the winds will still be blustery, but not quite as strong.
"Without any rain and with the persistence of dry air there are likely to be more fires, but without the strong winds the flames will not spread as quickly," Gaulter said.
The Ventura fire Captain said that "Woolsey Fire" in the south which has burnt more than 39,000 hectares and destroyed at least 435 structures, has been 40 percent contained but "there are numerous hotspots".
Despite the gusty winds, low visibility and rough terrain it was a "successful day", Captain Brian McGrath told reporters in a briefing.
"We're starting to get a handle on this fire," he said.
"I'm not feeling nearly the amount of wind and it's a little bit cooler this morning," he said on Tuesday.
Some residents were allowed to return to affected neighbourhoods on Tuesday, including in parts of Malibu.
Tens of thousands are still under evacuation orders.
Actor Gerard Butler posted a photo on Instagram in front of his "half-gone" Malibu home encouraging people to support the "brave men and women" of the firefighting units.
"Heartbreaking time across California. Inspired as ever by the courage, spirit and sacrifice of firefighters. Thank you," he wrote.