China will take part in the upcoming Bangladesh Business Summit to be held in Dhaka in March 2023- Chinese Ambassador Mr. Yao Wen.
The newly appointed Ambassador of the People's Republic of China to Bangladesh Mr. Yao Wen paid a courtesy call on Foreign Minister Dr. A K Abdul Momen, MP at the Ministry of Foreign Affairs today. Congratulating the new Ambassador, the Foreign Minister appreciated China's assistance in several mega projects in Bangladesh and looked forward to the speedy approval and implementation of the existing and pipelined projects. He also thanked the government of China for enhancing duty-free quota-free (DFQF) market access from 97% to 98% of products from Bangladesh into the Chinese market and hoped that this facility would come into force with necessary gazette notification within a short period of time.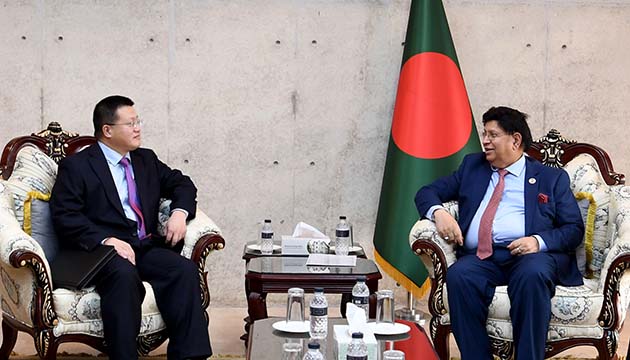 During the meeting, Foreign Minister acknowledged the invaluable support that China had extended to Bangladesh to tackle the Covid-19 pandemic. He expressed hope of having China's continuous support in the repatriation of Rohingyas to Myanmar. In reply, the Chinese Ambassador noted that the Rohingyas need to be repatriated to their homeland in Myanmar and hoped that the repatriation would start at an early date.
Foreign Minister Dr. Momen expressed hope that bilateral relations between the two countries would reach new heights during the tenure of the new Ambassador. He also thanked China for being the largest bilateral trade partner of Bangladesh and hoped that China will invest more in Bangladesh in the coming years. During the meeting, both sides cordially exchanged views on bilateral and multilateral cooperation of mutual interests, including trade and investment, infrastructure development, connectivity, south-south cooperation, etc.
Ambassador Yao expressed his satisfaction over the ongoing development projects in Bangladesh with Chinese support which include, among others, the Padma bridge rail link, the Bangabandhu Tunnel under Karnaphuli river, Mongla port upgrading, an extension of Osmani International Airport in Sylhet, etc. He also informed us that China will take part in the upcoming Bangladesh Business Summit to be held in Dhaka during 11-13 March 2023.
Foreign Minister Dr. Momen wished Ambassador Yao a successful tenure in Bangladesh and assured him of full cooperation in the discharge of his mandate.