Climate action and sustainability are top priorities for Nordic countries and European RMG-brands – NCCI President .
The Nordic Chamber of Commerce and Industry (NCCI) in Bangladesh, organized an event titled'Promoting Circularity for a Sustainable Ready-Made Garment (RMG) industry in Bangladesh'co-hosted with the Nordic Embassies in Dhaka – Sweden, Denmark, and Norway – and a Delegation of the European Union to Bangladesh along with the Sustainable Fashion Platform, while GIZjoined the event as the Strategic Partner.
While highlighting Bangladesh as the second largest sourcing destination for RMG products globally, Mr. Salman F Rahman, M.P., Private Industry and Investment Adviser to  Prime Minister, as Chief Guest at the event stated that "In order to remain ahead of competition Bangladesh must respond to the policy changes, technology innovation, trade, and finance context for the circular economy in the textile sectorand proactively adapt to these changing demand by closing the loop."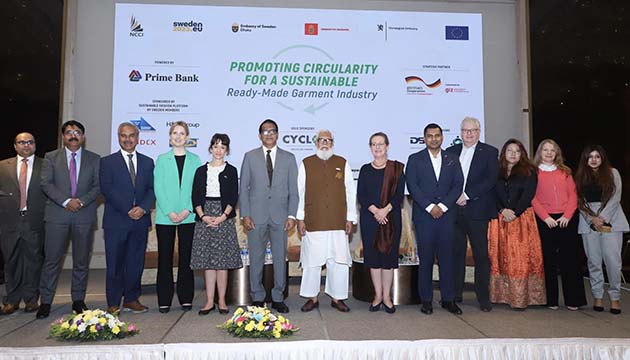 In his welcome remarks, NCCI President Tahrin Aman stated that "Climate action and sustainability are overarching priority for the Nordic countries and the European RMG-brands. As such, sustainability of the environment, production processes and even auxiliary (support) services related to the sector are being reevaluated in line with these global agenda of the brands".
The Swedish Ambassador, Alexandra Berg von Linde, said in her opening remark on behalf of the Nordic Embassies, that Environmental sustainability has been a clear overarching priority for the Nordic countries for a long time – and it will continue to be key in our relations with Bangladesh going forward. The same goes for the Nordic companies that are seen as frontrunners when it comes to sustainability and innovation". She further added that "The Nordics have a lot of experience in cultivating economic growth in an environmentally friendly manner, by applying solutions that are resources-efficient and by re-using, reducing and re-cycling. Naturally, we have learnt some lessons and we want to share these by partnering up with Bangladesh to promote a sustainable and more circular future.
During the Ambassadorial panel discussion, Charles Whiteley, Ambassador & Head of Delegation of the European Union, stressed on impact of upcoming policy developments regardingCircularity and textile strategy in the EU which will affect Bangladesh.He also underscored the importance forproactively addressing issues arising in the RMG value chainsoon.
Winnie Estrup Petersen, Ambassador of Denmark, highlightedthe Danish contribution to Circular Fashion Partnership with P4G and Danish Global Fashion Agenda. She mentioned that the Danish Embassy in Dhaka offers a dedicate team to customers to ensure sustainability and greening of value chains. She added that, factories which incorporate circularity in their production process can yield massive industry savings.
Silje Fines Wannebo, Deputy Head of Mission, speaking on behalf of the Norwegian Ambassador Espen Rikter-Svendsen,emphasizedthe efforts of the Norwegian Embassy to combat water pollution,one of the major externalities created by the RMG sector in Bangladesh, through the"Integrated approach towards sustainable plastics use and marine litter prevention in Bangladesh" in collaboration with UNIDO.
H.E. Alexandra Berg von Linde, Ambassador of Swedenalso spoke about how the newly launchedinitiative called "Sustainable Fashion Platform" by Sweden, that serves as an umbrella for combining the Swedish stakeholders´and RMG-brands efforts on sustainability in the RMG-sector, can support with both bringing climate smart and green tech companies to Bangladesh, as well as facilitating policy dialogues. She also mentioned that Sweden is exploring how a Credit Guarantee could increase the appetite, and lower the perceived risks, for green investments.
Lokhman Hossain Miah, Executive Chairman BIDA joined the event as the "Guest of Honor", while Faruque Hassan, President, BGMEA and Faiyaz Murshid Kazi, DG, Multilateral Economic Wing, Ministry of Foreign affairs spoke as Special Guests.
This event provided a platform for the brands and buyers to showcase their circularity agenda and interact with relevant stakeholders which will enable policy makers present formulate progressive policies. The event also assisted manufacturers to better understand requirements of the buyers and align their business plans accordingly. Business leaders, foreign dignitaries, government regulatory bodies, policy makers and advocacy coalitions also joined in the event.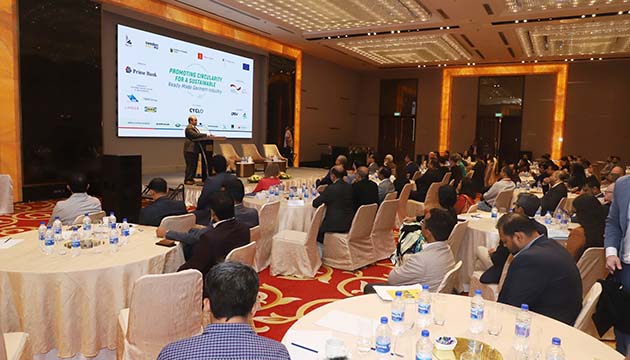 The RMG sector accounts for over 80% of Bangladesh's total export to the world, earning over $42 billion in 2021-22s. Sustainability has been one of the burning issues in the textile and garment industry of Bangladesh for quite some time now. However, some procedures within the industry have continued to be inconsistent about environmental sustainability. H.E. Mr. Charles Whiteley, the head of European Union Delegation to Bangladesh, in his keynote speech highlighted the need for the policy makers and the manufacturers to know the perspective of the buyers and their agenda. His Excellency said "As Europe harbors on the Agenda 2030 to close the loop by transitioning to a complete circular economy, Bangladesh must quickly respond to these latest policy developments in the textile sector of the European Market to keep the economy running at its current pace.
The program hosted two panel discussions titled Challenges and Opportunities and Policies and Roadmap. Panelists included representatives from different several relevant Associations and trade organizations, global brands, Research and, along with several garment manufacturers.