Development Cooperation and Humanitarian Minister of Luxembourg Ms Paulette Lenert met Foreign Minister Dr. A K Abdul Momen
Minister for Development Cooperation and Humanitarian Affairs of the Grand Duchy of Luxembourg Ms. Paulette Lenert met Foreign Minister Dr. A K Abdul Momen at the State Guest House Padma this morning. Secretary (Bilateral and Consular), Director General (West Europe and EU) and Director (Foreign Minister's Office) were present in the meeting. The Luxembourg Minister was accompanied by a five-member delegation.
Welcoming the delegation Foreign Minister Momen thanked the Luxembourg Minister for visiting Bangladesh, particularly the Rohingya Camps in Cox'sbazar. He also thanked the Government of Luxembourg for its support, including humanitarian assistance, for the Rohingya crisis. Citing Prime Minister Sheikh Hasina's generosity in hosting a large Rohingya community in Bangladesh, the Bangladesh Foreign Minister urged international community, particularly Luxembourg, to mount pressure on Myanmar authorities to take sincere and visible steps to create "conducive environment" in Rakhine State so that Rohingyas can go back to their ancestral homes in Myanmar in safety and security. He also urged international community to take decisive steps to ensure accountability of the atrocities committed against Rohingyas.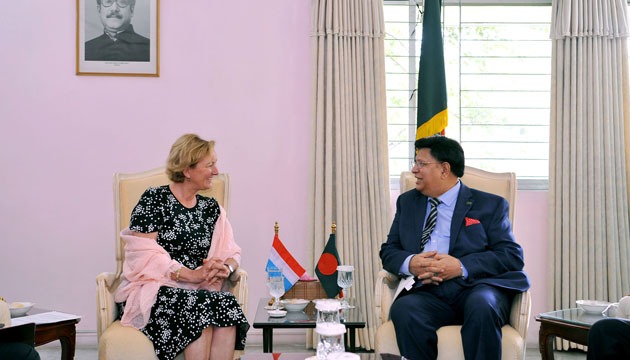 The Luxembourg Minister termed the Rohingya crisis as "liability for all" and assured to extend continued support for a durable and peaceful solution of the protracted crisis.
Foreign Minister Dr Momen encouraged exchange of business/trade delegations between the two countries to explore the untapped business and investment opportunities in Bangladesh. He called upon the Development Cooperation Minister for bilateral cooperation focusing on private sector development, including skills/SMEs leading to creating mutually beneficial economic/business partnerships for both countries. Referring to Luxembourg's globally acclaimed financial services sector, the Bangladesh Foreign Minister urged the Luxembourg Minister to encourage their financial services companies to establish business with and in Bangladesh.
Citing Bangladesh's favorable "geo-strategic location" in Asia, the Luxembourg Minister expressed interest about establishing "logistics services" facilities between Bangladesh and Luxembourg. In that context, she urged early conclusion of the "Air Services Agreement" between Bangladesh and Luxembourg. She further offered to extend "sustainable finance" for Bangladesh's journey towards achieving 2030 Agenda for Sustainable Development.
With a view to make existing bilateral relations deeper and wider, Bangladesh Foreign Minister urged the Luxembourg authorities to establish a resident diplomatic mission in Dhaka or at least designate the Embassy of Luxembourg in New Delhi to be concurrently accredited to Bangladesh. Currently, the Embassy of the Kingdom of Netherlands in Dhaka looks after official business on behalf of the Ministry of Foreign Affairs of Luxembourg.
The Luxembourg Minister and her entourage are scheduled to visit Rohingya Camps in Cox's Bazar later today. Yesterday, the delegation visited Savar, Gaibandha and Kurigram to see development projects funded by the Government of Luxembourg.
Foreign Minister Momen appreciated Luxembourg for their assistance in the development of Bangladesh through NGOs like CARITAS.