Dutch Research Organization for deeper collaboration with Bangladesh Delta Plan 2100
The Netherlands Organization for Scientific Research (NWO) is considering expanding their research collaborations with Bangladesh research organizations in the coming days. The NWO, who is already engaged with as many as thirteen research collocations with different partners in Bangladesh, is considering deeper collaborations around the theme of Bangladesh Delta Plan 2100.
This was conveyed to Ambassador Sheikh Mohammed Belal by Dr. H.J.J.G Beerkens, Team Leader of WOTRO Science for Global Development and Ms. Han Van Dijk, Coordinator, Urbanizing Deltas of the World (UDW) on 25 April 2019 at the Embassy of Bangladesh in The Hague. During the meeting, they also discussed the status of ongoing UDW projects like Strategic Delta Planning, Shifting Grounds, Delta-Managed Aquifer Recharge System, Adaptive Delta Management, Hydro-social Deltas, Living Polders, CORE Bangladesh, Small-scale Piper Water Supply and Water apps etc.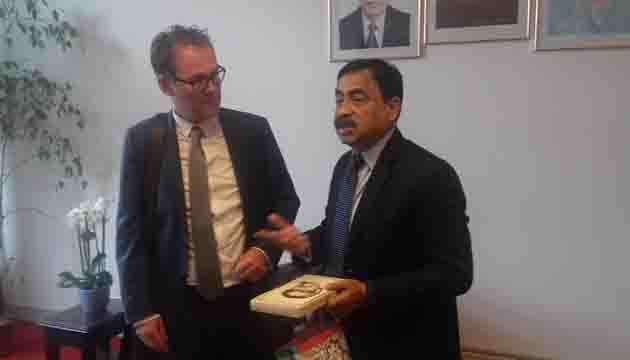 The Netherlands Organization for Scientific Research (NOW) is an overarching research body that ensures quality and innovation in science in the Netherlands while funding the scientific researches in Dutch Universities and academic institutions.
Terming water as a bonding glue of Bangladesh-the Netherlands relations, Ambassador Belal briefed the NOW delegations about the centrality of Bangladesh Delta Plan 2100 in the Bangladesh's development discourse and requested NOW to help Bangladesh in imparting capacities for fast and flawless implementation of Bangladesh Delta Plan 2100. Ms. Dijk, while assuring their support for Bangladesh Delta Plan 2100, briefed Ambassador about their projects on urbanizing deltas and NOW's interests in improving the understanding of complex delta systems in the world with the aim to contribute towards greater water safety, water and food security, and sustainable economic development.
Ambassador Belal also sought cooperation in the scientific explorations of marine resources in Bangladesh and hoped that Dutch research institutes will come forward to improve the life and livings of millions of coastal people engaged in the marine sector of Bangladesh with their scientifically proven techniques and technologies.
Both Dr. Beerkens and Ms. Dijk thanked Ambassador Belal for Bangladesh Embassy's confidence in the NWO and assured their deeper engagements with different partners in Bangladesh.
Ambassador Belal, while appreciating their interests in Bangladesh, highlighted the economic potential of Bangladesh Delta Plan 2100 for Dutch businesses through a win-win conglomerate based on decades long partnership between Bangladesh and the Netherlands in the water sector and beyond.