Effective youth and volunteer engagement can be a key toachieving food sovereignty in Bangladesh
Fostering youth and volunteer opportunities and platforms in advocating the improvement of the food system and engaging youth innovations to improve nutritional awareness and behavior was stressed by the speakers during the webinar today titled'Volunteerism & Youth Innovation for Human: Perspectives on Transforming Food Systems'' marking the International Youth Day', jointly arranged byUNV Bangladesh, UNFPA Bangladesh, VSO Bangladesh, Plan International Bangladesh, and ActionAid Bangladesh.
The guest of Honor,Mr Sudipto Mukerjee, Resident Representative, UNDP Bangladeshshared, ''UNDP is already working and keep working on incorporating more youths and volunteers to engage them in different initiatives, designing programs around their overall development, promotion and recognition.'' With that, he also encouraged to come forward with a campaign on sustainable food system and choices.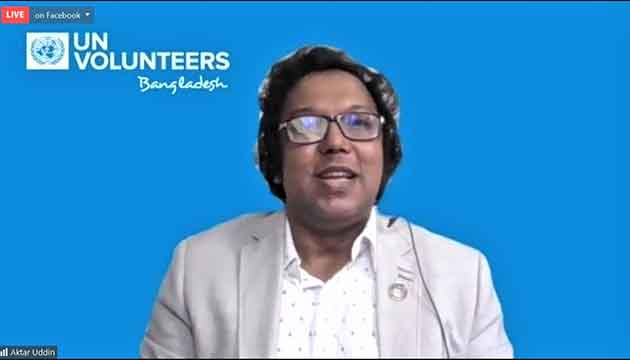 Dr Asa Torkelsson, Country Representative, UNFPA Bangladeshemphasized, '' Youthcan be source of an enormous resource if sufficient investment is made, and Bangladesh can reach the meaningful demographic dividend within the next twelve years.''
Mr. Md Aktar Uddin, Country Coordinator, UNV Bangladesh pointed out, ''The need for inclusive support mechanisms and proper implementation of youth policy that ensure youth continue to amplify efforts to restore the planet and protect life, while integrating biodiversity in the transformation of food systems is important. Here volunteers can play a vital role on promoting the notions of food safety, especially, the local volunteers can become the role model catalysts of change.''
''Youths are the future changemakers. Ministry of Youth and Sports is committed to support the youths' innovative ideas and their participation in the national efforts to achieve national and global development goals,''shared Mr Md Anwarul Islam Sarker, Additional Secretary (Youth), Ministry of Youth and Sports.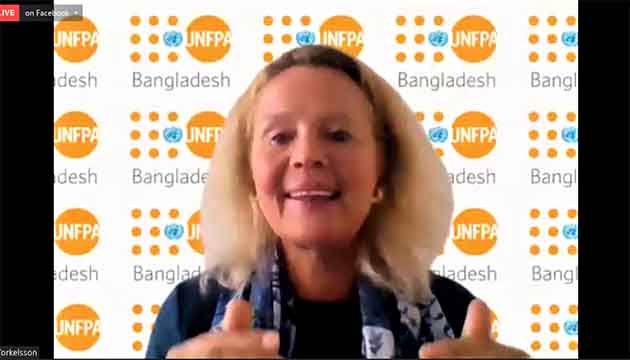 Ms Shamima Tushti, Actress and President, Amra Manush Foundationhighlighted that if we can properly utilize the huge young population and turn them into a skilled generation and inspire to volunteer then we shall have the asset to leading towards a smoother path to achieving an improved food system in Bangladesh.''
Ms Fahmida Faiza, Global Youth Representative, UN High Level Steering Committee on Youth Strategy 2030 focused that youth volunteerism has always been a driving force for Bangladesh and therefore, with effective youth involvement and a proper food waste management system they can contribute to find innovative solutions in transforming the food system perspectives in national and global level.
The key presentation was delivered byUNFPA Bangladesh, UNV Bangladesh and VSO Bangladesh.The speakers answered questions from the participants and shared insights in this interactive session. Volunteers from various organizations also shared their inspiring contributions at the session. It was broadcasted live from UNV Bangladesh,UNFPA BangladeshVSO Bangladesh, Plan International Bangladesh, and ActionAid Bangladesh's FB pages. About 150 participants took part on the webinar from across the country.