Egypt launches Smart Electric Bus manufacturing system
Uzzal Hossan Khan from Cairo, Egypt
Egypt's Arab Organisation for Industrialisation launched on Monday the smart electric bus manufacturing system in cooperation with China's Wanxiang Group Corporation and Egypt's Transport Company Mowasalat Masr.The launching of the new buses is part of a Memorandum of Understanding signed by the Arab Organisation for Industrialisation, Mowasalat Masr, and Shanghai Wanxiang in May 2019.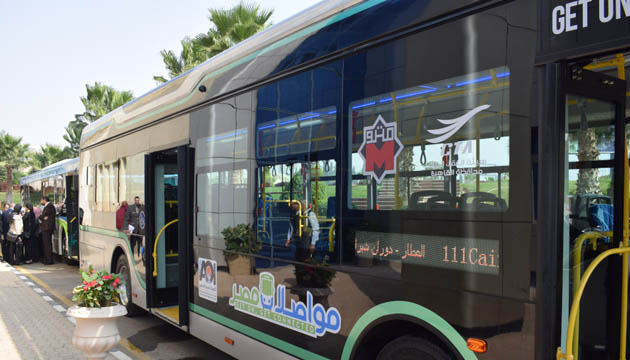 Mowasalat Masr is a leading company providing intelligent public transport services in accordance with international standards. On other side ,Shanghai Wanxiang is one of the largest Chinese companies specialised in the manufacturing of electric buses.
Egyptian Environment Minister Yasmin Fouad attended the launch event alongside representatives from Shanghai Wanxiang, Mowasalat Masr, United Investment Company, and the Public Transport Authority.
Project Highlights
100% Environment Friendly Electric Bus
Wheel Chair Access
Digital Bus Stop
GPS Navigation
Smart Card and Automatic Recharge Kiosk
The chairman of the Arab Organisation for Industrialisation Abdel-Moneim Al-Tarras affirmed that there is real political will to promote development in Egypt, and stressed that President Abdel-Fattah El-Sisi is keen on implementing smart transport technology through international cooperation and partnership.
According to the agreement, China will also provide Egypt with 50 buses. The first two arrived last month.
Electric transportation is part of the sustainable development goals that Egypt aims to achieve in accordance with the country's Sustainable Development Strategy 2030.
More environment-friendly and less costly in maintenance, electric buses run on chemical energy stored in rechargeable battery packs.
Last July, Egyptian state officials inaugurated the country's first electric bus in Alexandria governorate.
Egypt's first electric vehicle charging station was opened in Cairo in February. The unit is owned by Revolta Egypt, a developer of electric charging infrastructure and other electric vehicle-related projects.