Embassy of Bangladesh in Berlin observes the 91st Birth Anniversary of Bangamata Fazilatun Nessa Mujib.
The 91stBirth Anniversary of BangamataFazilatun Nessa Mujib, the beloved wife of the Father of the Nation Bangabandhu Sheikh Mujibur Rahman has been observed by the Embassy of Bangladesh in Berlin, Germany on the 8th of August 2021 with due solemnity, commemoration and respect.
The program commenced with recitation from the holy book and a video presentation on the contribution and devotion of BangamataFazilatun Nessa Mujib was screened before the audience. Embassy officials read the messages of the Honourable President, Honourable Prime Minister, and the Honourable State Minister of the Ministry of Women and Children Affairs were read respectively by the H.E. Mr Md. Mosharraf Hossain Bhuiyan, ndc, M. Murshidul Huq Khan, and Ms KaziTuhin Rasul.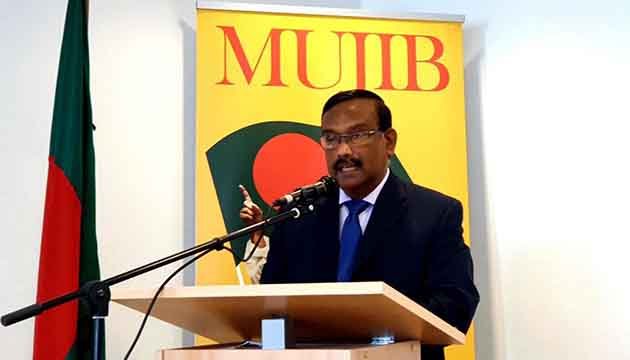 A discussion session in remembrance of BangamataFazilatun Nessa Mujib in presence of Embassy officials and members of the Bangladesh community took place. The discussants expressed and shared their memories, feelings, respect, and emotions on the occasion.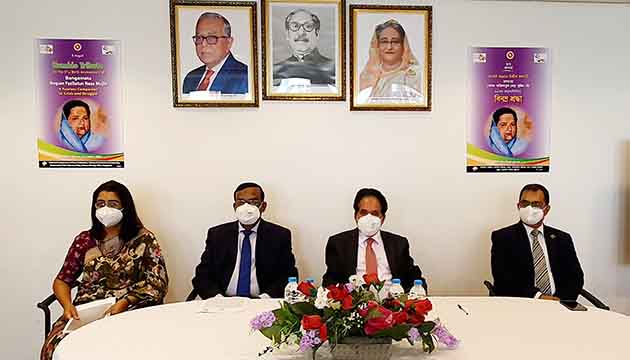 In his concluding speech, H.E. the Ambassador recalled with deep respect the devotion and contribution of BangamataFazilatun Nessa Mujib for the country throughout her entire life. He specially mentioned the deeds, and sacrifice of Bangamata for the Father of the Nation, their children, and for the struggle for a nation. The Ambassador also highlighted the various aspects of the life of Bangabandhu mentioning specifically his deep love for the people of Bangladesh and urged upon all to cultivate the ideals of the Father of the Nation for building a prosperous and happy nation dreamt by Bangabandhu. He further mentioned that Bangabandhu's daughter Sheikh Hasina, the Hon'ble Prime Minister of Bangladesh has been leading the country towards prosperity to build as 'Sonar Bangla' which was the dream of Bangabandhu.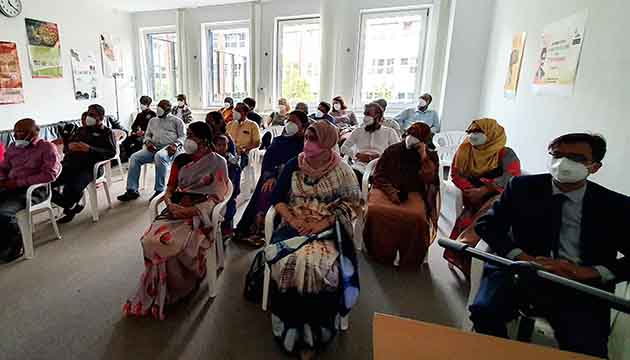 Special doa and monajat were conducted in seeking salvation for the departed souls of BangamataFazilatun Nessa Mujib, the Father of the Nation and the deceased members of his family and in praying for the future progress and prosperity of Bangladesh.