Embassy of Bangladesh, the Hague welcomed students from Leiden University.
Bangladesh's story of development charms students of Leiden University.
As a part of Embassy's public diplomacy outreach initiative, Embassy of Bangladesh, The Hague welcomed students from Leiden University on 22 August 2019.
During the visit, the students expressed their interests in different aspects of Bangladesh's development paradigm while exchanging views with the Ambassador Sheikh Mohammed Belal and other officials of the Embassy.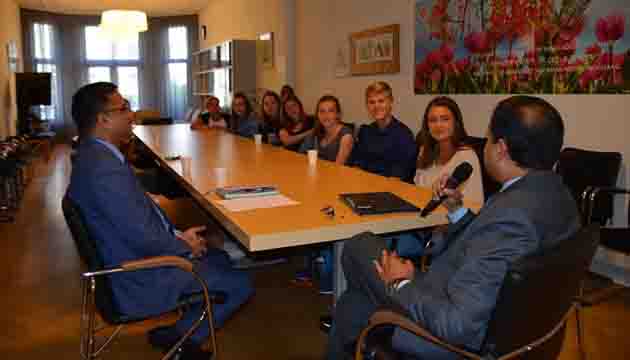 The fifteen members' student delegation comprised of students from France, Morocco, Hungary, Bulgaria, Italy, Czechoslovakia, Spain, United States of America, Indonesia and the Netherlands.
At the beginning, a video on Bangladesh's development spree was screened before the students. Witnessing phenomenal development activities in Bangladesh, students enquired about the mooring of such development works in Bangladesh. Highlighting youthful Bangladesh's visionary leadership under the strategic plans like vision 2021, vision 2030 for sustainable development goals, vision 2041 etc, Ambassador Belal gave a briefing on the ongoing development works in Bangladesh as well as Bangladesh's contribution to world peace and security.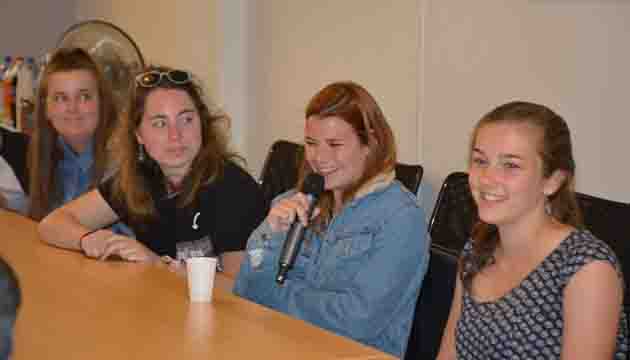 Highlighting contribution of Bangladesh's Peacekeeping forces, Ambassador Belal brought to the students attention how Bangladesh have been contributing to the world peace through heroic sacrifices of our forces combining both male and female members of armed forces.
Drawing reference to Bosnian war in 1995 and how only 1200 forces of Bangladesh's peacekeeping forces saved almost entire population of Bihac region of Bosnia and Herzegovina, Ambassador Belal narrated the heroic contribution of Bangladesh's peacekeeping forces across the globe.
Bangladesh, herself being born out of a bloody war and genocide, always remained sympathetic to the humanitarian calls under the mandate of the United Nations.
It is out of the same humanitarian obligation, Bangladesh is presently hosting a population of over 1.2 million forcefully displaced Rohingyas from Rakhaine state of Myanmar. For a country of 170 million people, hosting such a large population of Rohingyas is always a matter of daunting challenge. Bangladesh, nonetheless, did it out of her humanitarian responsibilities under the leadership of Bangladesh Prime Minister Sheikh Hasina, whom the world came to know as the "mother of humanity" ever since.
The contributions of women of Bangladesh towards nation's development journey was discussed quite in details under the theme of "women empowerment and moderation of a society."
Bangladesh Delta Plan 2100 was also discussed in detail as Dutch students wanted to know the similarities and differences between the deltas of Bangladesh and the Netherlands. Highlighting Dutch assistance for Bangladesh Delta Plan 2100, Ambassador Belal briefed the students as to how climate change cause one to suffer for the fault of other in this borderless world of climate change.
Leiden University in the Netherlands, established in 1575, is one the premier institution of learning with about 30, 000 students from all over the world. With an annual budget of about Euro 652 million, Leiden University shaped itself as a leading university of the Europe. Interestingly, out of its 652 million Euro budget, only 68 million Euro is earned from tuition fees of the students. The rest is from government support and other institutional contributions from generous businesses and entities.
Besides 16 nobel laureates thus far, the Leiden University is also famous for its alums like René Descartes, French philosopher, mathematician, and scientist, Rembrandt, World-known Dutch painter, Hugo Grotius, famous Dutch jurist who established the foundations of international law, Baruch Spinoza, Dutch philosopher, mathematician, political thinker, Baron d'Holbach, French-German author, philosopher, and prominent figure in the French Enlightenment, Christiaan Huygens, Dutch mathematician and scientist and the likes.