Fifth Bangladesh-Canada Foreign Office Consultations held in Canada
The fifth Bangladesh-Canada Foreign Office Consultations was held on Friday (October 27, 2023) at the Canadian Ministry of Foreign Affairs in Ottawa, the capital of Canada. Foreign Secretary (Senior Secretary) Ambassador Masud Bin Momen led the delegation of Bangladesh in these consultations between the foreign offices of the two countries. On the other hand, the Canadian team was led by Weldon Epp, Assistant Deputy Minister (Asia Pacific) of the Ministry of Foreign Affairs of Canada. The meeting discussed political relations between the two countries, economic cooperation, trade and investment expansion, technical assistance, migration, dealing with the Rohingya crisis, and various global and regional issues.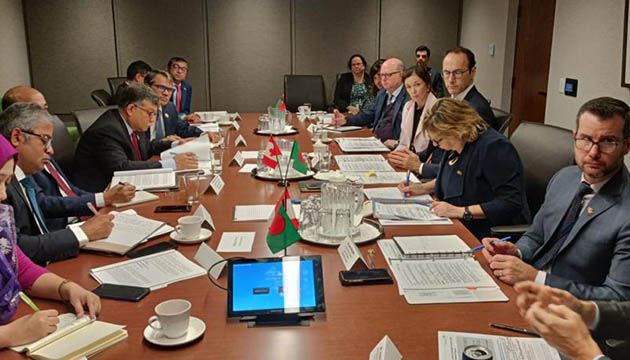 The Foreign Secretary expressed his satisfaction with the strong bilateral relations between Bangladesh and Canada based on shared values ​​and cooperation. Canada's Assistant Deputy Minister praised the unprecedented economic growth of Bangladesh. He commended Bangladesh for generously providing shelter to the more than 1.1 million forcibly displaced Rohingya in Myanmar and reiterated Canada's commitment to continuing its partnership in addressing the crisis.
In the meeting, both sides agreed to form a technical group for diversification and expansion of bilateral trade given the growing role of trade in the relationship. Both countries also agreed to work together to take bilateral relations to the next level.
The Foreign Secretary stressed on increasing cooperation between the two countries in Bangladesh's service sector capacity building, skill development, trade facilitation, clean and renewable energy and technology, and agro-food processing. He reiterated his request to send Noor Chowdhury, the confessed and convicted murderer of Father of the Nation Bangabandhu Sheikh Mujibur Rahman back to Bangladesh from Canada.
In addition, the lunch hosted by Canada's Deputy Minister of Foreign Affairs, David Morrison, discussed various global and regional contemporary issues, including climate change, peace and security, and transnational crime.
The High Commissioner of Bangladesh was appointed to Canada in the meeting. Khalilur Rahman, Director General (North America) of the Ministry of Foreign Affairs Khandaker Masudul Alam along with the officials of the Bangladesh High Commission and related departments of the Ministry of Foreign Affairs were present in Ottawa. On behalf of Canada, the High Commissioner of Canada in Bangladesh was present. Lily Nicholls, including senior officials of various departments of the Canadian government.