First Foreign Office Consultations between Bangladesh and Qatar at the level of State Ministers for Foreign Affairs held in Dhaka
The 1st Foreign Office Consultations between Bangladesh and Qatar was held today at the State Guest House, Meghna, Dhaka in the morning. From Bangladesh side, the meeting was led by Md. Shahriar Alam, MP, State Minister for Foreign Affairs while  Soltan bin Saad Al-Muraikhi, Hon'ble State Minister for Foreign Affairs of Qatar led the Qatari delegation. The Foreign Secretary, Masud bin Momen, Bangladesh Ambassador to Qatar, high officials of the Ministry of Foreign Affairs and officials from other Ministries and Agencies from Bangladesh and high officials of Qatar were also part of the delegation.
At the outset of the meeting, Md. Shahriar Alam gladly welcome the Qatar delegation in Dhaka. He briefed the State Minister for Foreign Affairs of Qatar about the remarkable economic performance of Bangladesh and rapid rate of economic growth that Bangladesh has registered through the last decade. He apprised the Qatar side of the economic policy adopted by the Bangladesh Government in order to attain the Vision 2021 and Vision 2041 to translate Bangladesh a self-reliant, modern and developed country. He informed that the Government is establishing 100 Economic Zones and a good number of Hi-tech Parks for different industries. He urged the Qatari businessman to invest in Economic Zones and Hi-tech parks and cited the different incentives offered by Bangladesh Government to foreign investors. He added that IT sector is a flourishing sector in Bangladesh where a large number of IT professionals are being engaged.
Md. Shahriar Alam, MP, urged that private sector of the two countries may have more interaction and both sides may identify areas of mutual cooperation in the area of trade and investment. He proposed that a joint Bangladesh Trade and Business Council between Bangladesh and Qatar may be formed. He referred to the successful 'Made in Bangladesh' trade fair which was organized place in Doha at the end of January 2020.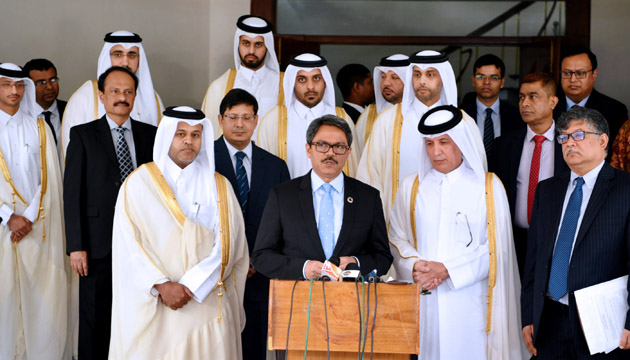 He also mentioned that Bangladesh and Qatar may establish cooperation in sectors like aviation management, shipbuilding and maritime affairs.
He also informed that the Government will celebrate the birth centenary of the Father of the Nation Bangabandhu Sheikh Mujibur Rahman from March 2020 to March 2021 in a befitting manner as well as will celebrate the 50th Anniversary of Independence of Bangladesh.
State Minister for Foreign Affairs of Qatar expressed happiness for the organization of the bilateral Foreign Office Consultations. He mentioned that Bangladesh and Qatar has diplomatic relations for over 40 years and the two countries have notable extent of economic and cultural cooperation. He conveyed that Qatar desires to establish partnership with Bangladesh in different economic sectors.
The State Minister for Foreign Affairs of Bangladesh said that Bangladesh and Qatar maintain relations both at bilateral level and multilateral platforms.
Md. Shahriar Alam, suggested that Qatar could recruit skilled workers and professionals like doctors, engineers and nurses from Bangladesh. He also mentioned that the Bangladesh Government is working for ensuring low cost and safe migration of the workers.
Both sides also reviewed the progress of the agreements under discussion. Mr. Md. Shahriar Alam urged the Qatari side for easing the visa procedures for Bangladesh businessman and professionals. Qatar side assured that they will introduce visa facilitation services in Bangladesh to expedite visa application process.
Md. Shahriar Alam also expressed his thanks to the Qatar Government for their support for distressed Rohingya People living in Bangladesh. He sought cooperation of the Qatar Government for safe and secured return of the Rohingya people to their homeland. Hon'ble State Minister of Qatar assured that they would continue their support to Bangladesh on the Rohingya crisis.
Both sides agreed to continue the review mechanism of the existing aspects of cooperation through Foreign Office Consultations.