Foreign Minister invites Six countries to invest in Bangladesh
Urging the Ambassadors to take the opportunity to invest in Bangladesh, Foreign Minister Dr. A. K. Abdul Momen informed the Ambassadors about the positive atmosphere for investment in Bangladesh with high prospects of return. He particularly mentioned that sector like agro-based industries in Bangladesh would be a prospective area for investment as Bangladesh has been producing surplus agro products.
The newly appointed Ambassador and High Commissioners of six countries, namely, Mali, Namibia, Cyprus, Belarus, Portugal and Iceland made joint call upon Dr. Momen yesterday at his National Parliament office following their presentation of credentials to the President of Bangladesh, Md. Abdul Hamid.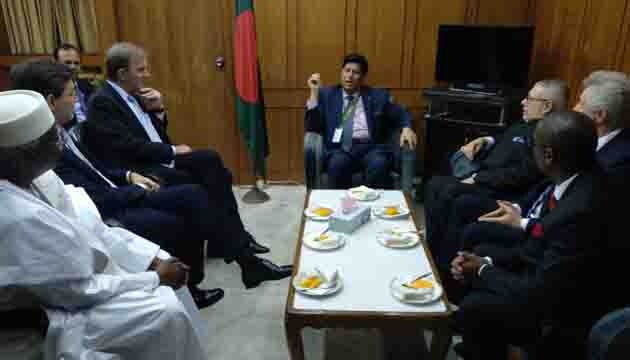 The Bangladesh Foreign Minister briefed the newly appointed Ambassadors about the remarkable level of development that Bangladesh has been able to achieve under the dynamic and dedicated leadership of Prime Minister Sheikh Hasina. He informed the Ambassadors that Bangladesh, which was once considered as one of the weakest economies in the world, now has been able to earn commendable socio-economic progress. He highlighted Bangladesh's achievement in various social indicators as well as the huge success of the government in poverty alleviation.
The Namibian High Commissioner briefed Dr. Momen about the democratic elections in Namibia and the continued economic development of the country. He informed that Namibia maintains enough regional cooperation with its neighbouring countries which is important for peace and development. He also informed that Namibia has been hard hit by drought as a result of climate change effects.
The Bangladesh Foreign Minister mentioned that fighting the effects of Climate Change is a major global challenge. Therefore, he said, countries of the world should make concerted efforts in order to fight this common menace.  He underscored the need of peace and stability for attaining social and economic