Germany provides200 million Euro (BDT 1846.6 crore) to Bangladesh for development projects in various sectors.
Twobilateral agreements have been signed on Tuesday, 30thJuly2019, between the Government of the People's Republic of Bangladesh and the Government of the Federal Republic of Germany on Development Cooperation. The total volume of the agreements is 200 million EUR(BDT 1846.6 crore)of which 172 million EUR will be available as Financial Cooperationand 28 million EUR for Technical Cooperation. Mr. Monowar Ahmed, Secretary, Economic Relations Divisions, Ministry of Finance of Bangladesh and H.E. Peter Fahrenholtz, Ambassador of the Federal Republic of Germany in Bangladesh signed the agreements on behalf of the two governments. The signing ceremony was attended by high officials from the German Embassy in Dhaka, the German Development Bank KfW andthe German technical cooperation agencies GIZ and BGR,as well as from the Government of Bangladesh.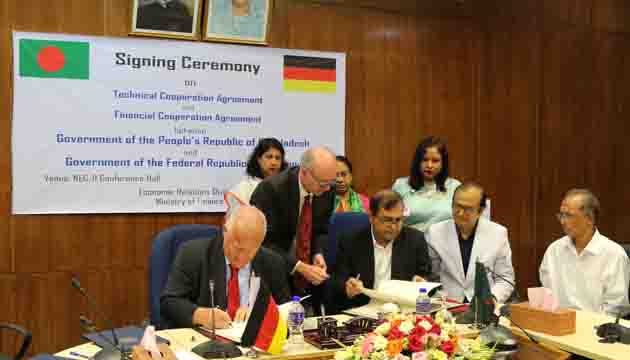 The projects under the agreements willsupport Bangladesh in the following areas:
a) Renewable Energy and Energy Efficiency: 156 millionEUR of which 89.5 millionEURwill support renewable energies,
b) Climate Change Adaptation in Urban Areas: 26 millionEUR,
c) Textile sector: 7.5 millionEUR,
d)Water Resource Management Dhaka:4.5 million EURas technical cooperation complementing an earlier loan agreement of 90 million EUR for the Saidabad III Water Treatment Plant,
e) Sundarbans Mangrove Management Plan: 4 millionEUR,
f) Study and Expert Fund: 2 millionEUR.
Germany has been providing financial and technical assistance for the development of Bangladeshsince 1972, which amounts today to a total of over 3 billion EUR.German – Bangladesh Development Cooperation has a long standing history in supporting infrastructure, health, poverty alleviation, good governance and human rights, energy efficiency and renewable energy, climate change adaptation, and recently also the Rohingya and host communities in Cox's Bazar district. The present agreements mark the continuation of successful bilateral cooperation and will contribute to achieving the SDGs.