Government-Development Partners Discussion on Climate Action Priorities Leading Up to -COP28
One hundred and fifty-four countries signed the United Nations Framework Convention on Climate Change (UNFCCC) in 1992, agreeing to combat harmful human impacts on the climate. Since then, Climate Change Conference of Parties (COP) meetings have been held annually to discuss how exactly that should be achieved and monitor what progress has been made.
From the perspective of Bangladesh and other climate-vulnerable countries, the successes of the recent COP27 held in Egypt, included the decision to create a Loss and Damage fund, an agreement on the way forward for the Global Goal on Adaptation, and the launch of a new five-year work program at COP27 to promote climate technology solutions in developing countries. However, concrete commitments on mitigation were further postponed raising concerns about the prospect of keeping the 1.5-degree limit to contain global warming alive.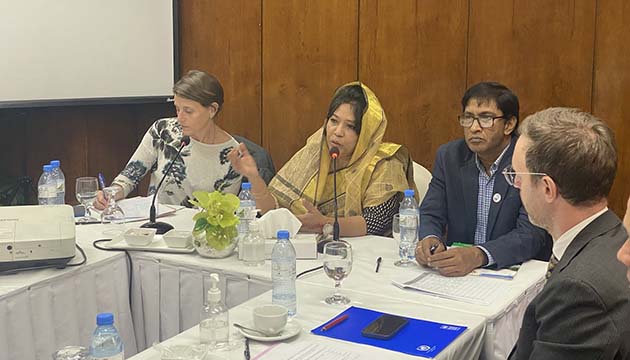 The UN Resident Coordinator in Bangladesh, Gwyn Lewis, chaired a discussion today between the Government of Bangladesh and Development Partners to hear reflections on COP27 and Bangladesh's priorities for COP28. Dr. Farhina Ahmed, Secretary, Ministry of Environment, Forest and Climate Change joined as the Chief Guest.
Dr. Farhina Ahmad spoke of how, "As a highly climate-vulnerable country with an imperative to develop fast, Bangladesh needs massive access to climate finance and technology. Support is needed for the implementation of the National Adaptation Plan, Nationally Determined Contributions, and the Mujib Climate and Prosperity Plan. In addition, high emitting countries must reduce their emissions to contain global warming within the 1.5-degree limit to protect our country from the recurrent climate disasters that are striking with increasing scale and frequency."
Ms. Gwyn Lewis added that "Bangladesh's needs for climate finance far exceeds what currently is available. Bangladesh has already developed plans to adapt and mitigate the impacts of climate change, however as development partners we need to work in support of the government to make the step change to save lives and livelihoods, and make the resources available to operationalize and better adapt to the challenges of climate in adopting and operationalizing this framework."
Mr. Matt Cannell, the Development Director of the British High Commission in Bangladesh added "Tackling climate change is a top priority for the UK Government and we are supporting the Government of Bangladesh to adapt to its effects while also championing international action to keep 1.5 degrees alive. It is vital to mainstream climate action across all development and humanitarian work and engages the public and private sectors to ensure financing needs are met."
During the discussions, it became clear that the large volume of climate finance needed cannot come from the Government alone. Private sector and development partners must also support. Available funds need to be prioritized to protect people and communities most at risk. If communities are more resilient, Bangladesh will continue to make progress and achieve the Sustainable Development Goals by 2030. Finally, there is a strong and urgent call for the highest emitters of greenhouse gases to make meaningful commitments to climate change mitigation to ensure that global warming is kept within the 1.5 degrees limit.
COP27 took place in Sharm el-Sheikh, Egypt in November 2022. COP28 will take place in Dubai, UAE from 30 November to 12 December 2023.