High Commissioner Smt. Riva Ganguly Das calls on Mayor of Rajshahi City Corporation.
Smt. Riva Ganguly Das, High Commissioner of India to Bangladesh met Mr. AHM Khairuzzaman Liton, Mayor of Rajshahi City Corporation on July 22, 2019 at Rajshahi Nagar Bhaban to discuss issues of mutual interest. She appreciated the work done by the Rajshahi City Corporation in the development of Rajshahi and making it a clean and green city.  She thanked the Mayor for his support to the events organized by the Assistant High Commission of India in Rajshahi from time to time and informed the Mayor that the Indian side had chalked out a comprehensive programme for cultural exchanges between India and different parts of Bangladesh, including Rajshahi.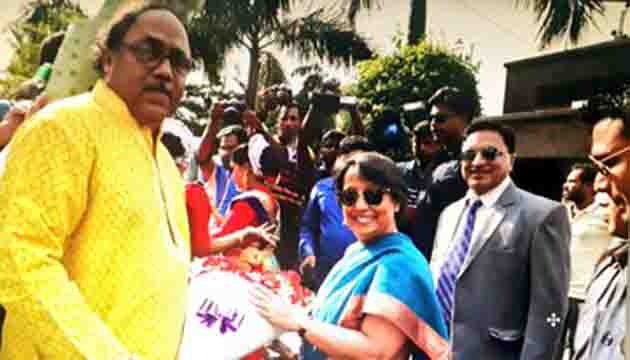 Both High Commissioner and Mayor expressed satisfaction that Indian-Bangladesh relations were going through a "Sonali Adhyay" . The Mayor thanked the High Commissioner for the support of Government of India in carrying out projects relating to urban development of Rajshahi, expressed hope to have more investments from India in Rajshahi city and solicited further cooperation in infrastructure development projects, trade and commerce between the two sides as well as people-to-people linkages.  He recalled his time spent in India while pursuing significant part of his studies and how India occupied an important corner in his heart.
The meeting concluded with both sides reiterating the importance of further strengthening multidimensional relations between India and Bangladesh.  The High Commissioner also visited the Bangabandhu Corner at Rajshahi Nagar Bhaban and signed the Visitors' Book.  She was accompanied by Mr. Sanjeev Kumar Bhati, Assistant High Commissioner of India in Rajshahi and Mr. Vishal Jyoti Das, Second Secretary(Visa & Consular), High Commission of India, Dhaka