High Commissioner Smt. Riva Ganguly Das visited Dinajpur district in Rangpur division
The visit commenced with Nayabad mosque at Kaharole Upazila followed by the historic Kantajew temple. A free clinic for the poor run by the Deepto Jibon Foundation was the next stop where the High Commissioner addressed a gathering and handed over wheelchairs to specially-abled persons and sewing machines to the economically disadvantaged women. Hon'ble Member of Parliament for Dinajpur-1, Mr. Manoranjan Sheel Gopal was also present.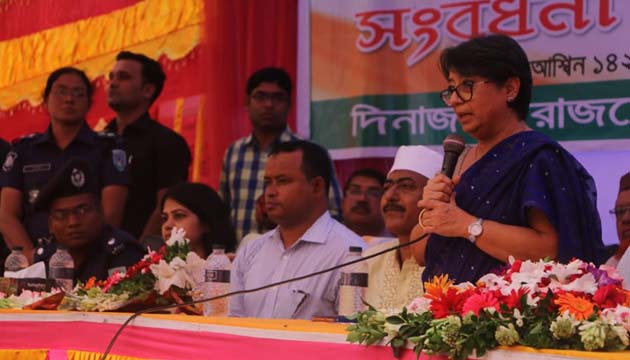 In Dinajpur City, the High Commissioner visited the Sri Sri Kendriyo Loknath Mondir in Ganeshtala where she addressed the local community and inspected a project being financed by the Government of India. At the end of her visit, she visited the Ramakrishna Ashram where she distributed sarees and handed over books for the library of the Ashram.